Music Hall is one of the true treasures of Cincinnati, the city along the banks of the Ohio River where Ronald Crutcher was born and raised. With its Victorian Gothic Revival garrets, turrets, and gables, the elegant, century-old red-brick building would not be out of place on Richmond's campus, apart from its city-block length. Suspended within from a central dome, a grand chandelier of brass and thousands of pieces of hand-cut crystal has lit the home venue of the city's symphony, opera, and ballet company since it opened in 1878.
A stone's throw away, just across the trolley tracks at 1400 Elm St., stands a much more modest three-story brick building barely the length of four parked cars. It was at this address, the home of the Bass Viol Shop, that a young Ronald — 14 years old and growing in his talent on the cello — asked his father one day in 1963 to meet him and buy him yet another, more expensive cello.
The son of a Kentucky tobacco farmer, Andrew J. Crutcher Jr. was a no-nonsense man. "My mother and father were very complementary," Ronald Crutcher said. "My mother was very refined, very quiet and soft-spoken, and spoke the King's English. My father talked just like he came from the farm, very loud and outspoken, and he would tell you his opinion whether you wanted to hear it or not."
Asking his father to meet him at the Bass Viol Shop on Elm Street was equal parts confidence, courage, and audacity for the teenager.
Crutcher's parents, Andrew and Burdella, grew up in and around rural Peytontown, a small Kentucky community populated after the Civil War by newly emancipated African-Americans. Crutcher's maternal great-grandfather was an inventor who patented one of the first miniature engines for taking visitors on rides around zoos and parks. His maternal grandfather fought in France during World War I, and his paternal grandfather was a tobacco farmer. Though Andrew, the oldest son of the tobacco farmer, loved school, he left it after eighth grade to work on the family farm.
When Burdella was a teenager, she moved with the family for whom she was working to the Cincinnati area. Andrew followed her there, smitten. He found a job at Cincinnati Milling Machine Co., now Cincinnati Milacron, as a chipper, knocking extraneous metal bits off of machine parts after they came out of molds. He stayed at Milacron for 42 years and eventually became the company's first African-American manager and then continued to rise up through the ranks. The executive who promoted him to manager told him, "This should have happened 15 years ago," an acknowledgement of the racial prejudice that had delayed it. Crutcher became known for leading one of the highest-producing areas of the company.
He ran a tight ship at home, too. "Our household was incredibly regimented," Ronald Crutcher said. "Every Saturday, there were always certain tasks you had to do. You got finished with one thing, and he had something else for you to do."
Asking his father to meet him at the Bass Viol Shop on Elm Street was equal parts confidence, courage, and audacity for the teenager.
"I was so afraid to ask my father, so I wrote him a note," he said. "I had already gone down to talk to Mr. Eichstadt, and he had three really nice, German-made cellos, $1,500 each."
Crutcher didn't know whether his father would come.
When the scheduled day and time arrived, Crutcher greeted Eichstadt at the small counter just inside the front door. His father was nowhere to be seen. Beyond the threshold of the shop, past the sheet music for sale and crazy dinosaurs of old instruments accumulated as curiosities, was a doorway leading to a larger room where musicians tested possible purchases. Eichstadt had pulled a few cellos that might interest the young Crutcher.
"Why don't you come back and try these cellos out?" he asked the crest-fallen young man.
"So I went back, and there was my dad," Crutcher said. "Mr. Eichstadt had already spent some time explaining to him why a $250 cello was no longer good enough for me and why I needed a better instrument.
"My father said, 'Choose the one you want,' and he took out a loan to buy that instrument for me. I used that cello through graduate school until the first year of my Fulbright."
At the time, it would have been hard to predict just how far his talent would take him. He had taken up the cello only a year earlier when, after a test that showed he had a near perfect sense of pitch, a music teacher at his junior high school had invited him to choose any instrument he fancied. He reasoned that sitting behind one of the school's plywood cellos would allow him to hide the early teen body he then self-consciously inhabited, so that's what he picked.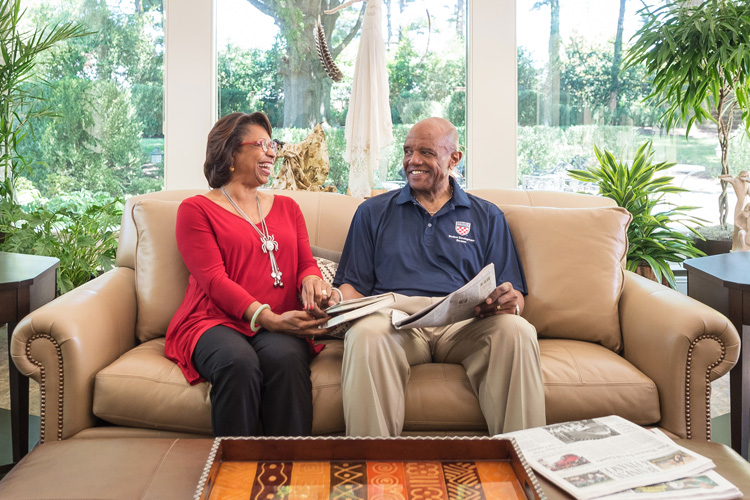 It was on that school cello that, eight months later, he performed the first two movements of Bach's Suite no. 1 in G major for solo violincello in a state music teachers' competition. In the audience happened to be Elizabeth Potteiger, a music professor at Miami University in Oxford, Ohio, a small college town nestled among the fertile cornfields that stretch beyond the horizon north of urban Cincinnati. On the spot, she invited him to attend a music camp at Miami during the summer. After the camp, she made him and his family an offer: If you can get to Oxford on Saturdays, I'll give you free lessons. Though it was a 90-minute bus ride each way, the family took her up on it. 
"Liz was a Renaissance woman, widely read, and a world traveler," Crutcher later wrote in a 2004 essay on leadership for The Chronicle of Higher Education. "She was also my most influential mentor when I was a young man. ... In addition to an excellent technique, she taught me the style, historical background, and musical architecture of compositions. I learned how to be certain that what was in my mind's ear was ultimately produced from the cello."
Under her guidance, his skill caught up with his talent until it outpaced the capabilities of his instrument. He upgraded  from his school cello to a $250 German-made one, and within months upgraded again to that $1,500 model. Crutcher went on to win, at age 17, the Cincinnati Symphony's Young Artists competition before enrolling at Miami University with the support of a scholarship. For three summers after graduation, he was back on Elm Street, now performing with the Cincinnati Symphony Orchestra under Music Hall's magnificent chandelier.
Look up any number of bios on Crutcher today, and you're likely to find a version of the story of his lessons with Potteiger. The story of his father's support sits more quietly in the background. Taken together, these moments not only set the course of his life but have guided his lifelong thinking about the transformative power of education and its inextricable connection to opportunity.
•••••
After Miami, Crutcher continued his education at Yale University, where he earned his master's degree in 1972 and entered the doctoral program. He distinguished himself as a graduate student, receiving Ford Foundation, Woodrow Wilson, and Fulbright fellowships. The Fulbright funded continuing studies in Germany, where he remained for nearly five years performing as principal cellist in a chamber orchestra and teaching at the Bonn Music School.
He returned to the U.S. to a two-year stint at Wittenberg (Ohio) University, became the first cellist to receive the Doctor of Musical Arts degree from Yale in 1979, and then settled into a faculty position at the University of North Carolina at Greensboro, where he taught classes, served on the faculty senate, and continued to develop his musical career, making his Carnegie Hall debut in 1985. On a visit to Detroit, a friend from graduate school introduced him to the woman whose side he would barely ever leave again, Betty Neal.
"Somehow, I knew instinctively, immediately, that this was the person I wanted to have as a life partner," he said.
Less than a year later, Betty Neal became Betty Neal Crutcher. Later she would become Dr. Betty Neal Crutcher after completing a doctorate in educational administration. The couple also became mom and dad with the arrival in 1984 of daughter Sara, who went on to Hampton University and now lives and works in Detroit as a creative manager for a worldwide advertising agency.
•••••
Ask Ronald Crutcher how being a professional musician has shaped his approach to being an academic leader, and he will gently but quickly sharpen the specificity of your question. He has spent much of his music career playing with the Klemperer Trio, a chamber music ensemble that has performed across Europe and throughout the Americas since its formation in 1980. In a chamber ensemble, he points out, there is no conductor. Decision making happens collaboratively, with all of the players making contributions.
"The ability to collaborate, as well as the willingness to lead and the wisdom to know when to assert oneself, are paramount for both a chamber music performer and a college president," he wrote in his 2004 Chronicle essay on leadership.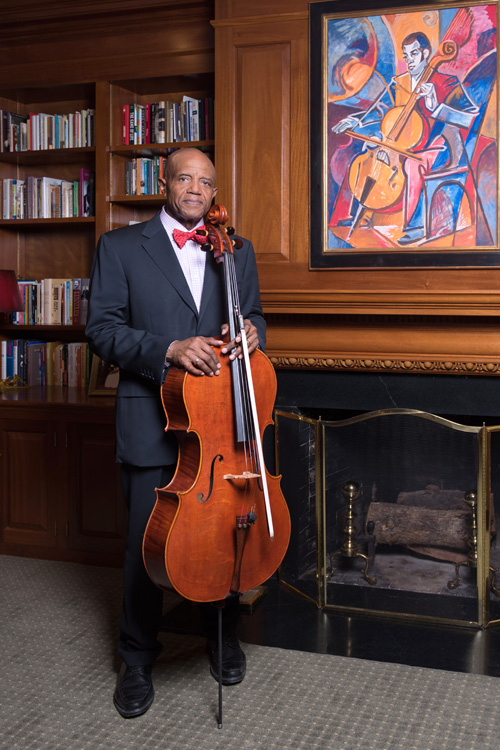 Linda Eisenmann, whom Crutcher hired as provost at Wheaton College in Massachusetts while he was president there, said this was her experience of working with him.
"A really strong quality of Ron's is his thoughtfulness. He really considers all sides of a question," she said. "He doesn't feel the need to be the loudest voice in the room and recognizes that his first thought might not be his best thought."
The disposition of effective leaders is a subject to which Crutcher has given careful attention since the earliest time of his transition from teaching to administration. His first full-time administrative job came at UNC-Greensboro, where he went through promotion and tenure. The vice chancellor for academic affairs, impressed with his work on the faculty senate, offered him a position as the university's assistant vice chancellor for academic affairs.
On his first day in his new position, he wrote three notes to himself and slipped them into his desk drawer. The first: "Remember how you got here," a reference to his excellent record as a faculty member. The second: "Remember why you are here," to serve. The third: "Do not become obsessed with power," a reminder of changes he had seen in colleagues who had made similar transitions.
"Those three bullets have guided me throughout my career," Crutcher said. He took a course in the principles of management, during which he recognized many of the same principles he had unwittingly absorbed from his father. He began discovering that he had a knack for organizational leadership, and his transition from full-time performer and music professor to administrator was under way.
"What I found was that I absolutely loved the work," he said. "I loved the fact that every day you had a new challenge and different issues to deal with."
After two years in administration there, he accepted a new institution-wide leadership role in 1990, becoming vice president for academic affairs and dean of the Conservatory at the Cleveland Institute of Music, a small and specialized world-class institution that competes with the likes of Juilliard, Curtis, Oberlin, and Indiana for the country's best music students. From there, an even bigger step beckoned when the University of Texas came calling, looking for a new director for its school of music. He'd never imagined a life in Texas, but his adviser at Yale gave him advice that he took to heart: "At Austin, you will really be able to leave your mark. It's a really fine school, but not many people know how great it is."
He set out using the school's ample resources to create programs that served students while letting others know just how great the school was. Using discretionary funds, he and the faculty established a new visiting composers program. When the university's performing arts series booked world-famous violinist Itzhak Perlman, Crutcher asked its director to query Perlman's agent about whether he'd be willing to perform Tchaikovsky's Violin Concerto with the student orchestra. Perlman said yes, and coverage in the music press followed.
Crutcher also boosted the visibility of a faculty that included three former members of the Metropolitan Opera, and he created a board of visitors, populating it with connections throughout the classical music world, including deans at top music schools, the president and CEO of Carnegie Hall, and others, whom he brought to campus to meet the faculty and see the students perform.
"They became our mouthpiece to the world," Crutcher said, "and it was a lot of fun." The school rose through the ranks and developed a national reputation commensurate with its quality, and Crutcher proved himself a gifted fundraiser.
•••••
It was at Texas that a mentor again pointed him toward a pivotal development in his career. At lunch one day with Bryce Jordan, president emeritus of Penn State University, Jordan threw out a casual observation and question: "It's obvious you're going to become a college president. Have you ever thought about what kind of institution you want to be president of?"
The thought had never crossed his mind, Crutcher said, but he came up with an answer on the spot: "Certainly not a place as big as UT-Austin. Probably a liberal arts college," he heard himself say. After the lunch, he did some soul-searching.
"I had to deconstruct for myself why I gave that answer," he said. "I decided that if I'm going to be president, I want it to be at a place where I know the faculty and staff are really committed to being mentors to the students, a place where the students are really transformed during that period in their lives." In other words, a place structured to intentionally offer the kind of experiences that had so powerfully shaped his own early life. When he studied the landscape of higher education, he understood himself to be describing liberal arts institutions.
A turn in his own life prompted the next step in his career. Crutcher's mother back in Cincinnati had begun to fall ill with cancer, and he wanted an opportunity to be closer to home. By happenstance, a recruiter he knew called him to ask for suggestions for good candidates at his alma mater, Miami University, which was searching for its next provost and executive vice president for academic affairs.
"Well, I might be interested in that myself," he told the recruiter.
There's no such thing as stasis. You're not staying still; you're falling behind.
Crutcher came back to Miami in 1999 as a favorite son and headed up the institution's strategic planning process. He found an institution that was flourishing with a reputation as one of the so-called "public Ivies," but in that strength, he saw a temptation to complacency.
"I was an insider, yet an outsider," he said. "I was able to push back at the faculty and ask them to take a look at Miami from the outside."
At early meetings, he posed probing questions to the deans: How do we know we are as good as we think we are? If we are as good as we think we are, where's the evidence? Miami soon developed an institution-wide benchmarking process.
"I could get away with that as a beloved alum," he said. "My point was that if one has a good reputation, in order to maintain that reputation, you have to be continually improving. If you're not doing that, there's no such thing as stasis. You're not staying still; you're falling behind. Of course, that's even more so the case today."
The presidency at an institution like Wheaton College was a natural next step. The small, liberal arts college sits in the exurbs south of Boston. It enrolls approximately 1,600 students and offers small class sizes on par with Richmond's. 
Portents of Crutcher's 10-year Wheaton presidency are easy to see in his earlier experiences. He led the campus through a successful strategic planning process and a fundraising effort that resulted in, among other things, the construction of a new sciences center, the largest building project in the college's history. Meanwhile, the students became more diverse while consistently earning the kind of prestigious external honors that help measure a school's academic quality, including Truman, Marshall, Goldwater, Rhodes, and Fulbright scholarships. Alumni involvement through volunteer service, student mentoring, networking, and philanthropy all rose substantially. Crutcher also elevated his voice and Wheaton's visibility on the national stage, becoming a leading and influential advocate of liberal arts education.
In 2014, after a decade at Wheaton, he left the presidency for a year's sabbatical in Berlin, a city he and Betty loved for its creativity and diversity. The couple kept their schedule light and carefree. They had no plan for their next steps, just a timeline by which they planned to make a plan. The thought of another university presidency was the furthest thing from their minds. Then, Richmond came calling.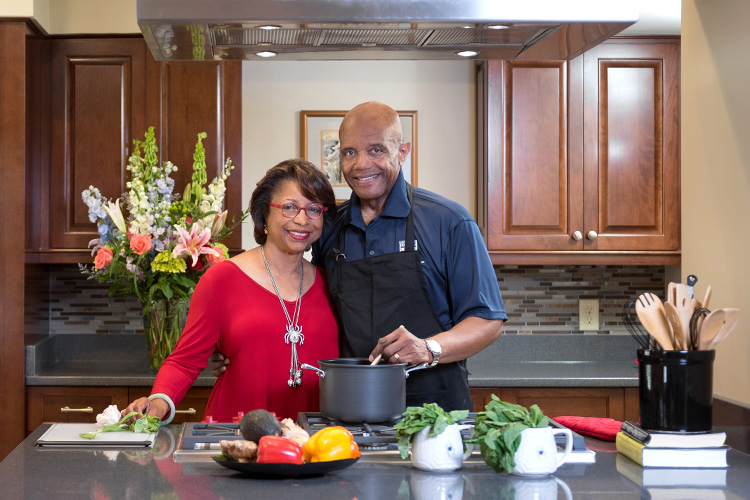 •••••
"I can tell you precisely the moment that I realized that Richmond was a great fit for me," he said. "It was on my way flying across the ocean."
A search consultant working with Richmond had sent him a prospectus that the University had prepared for possible candidates to succeed outgoing president Edward Ayers. On a transatlantic flight back to the U.S. during his sabbatical, he re-read it closely. "As I was reading it, I kept showing Betty, 'Look at this.'"
What he kept seeing, he said, were indications of an institution whose values and priorities closely matched his own. He saw a place where close mentoring relationships between students and faculty and staff flourished, where curricular advancements were crossing disciplinary boundaries, and where there was a genuine commitment to expanding access and opportunity to talented students of all backgrounds. He also saw an institution with a strong foundation and substantial momentum, the kind of place where he could again take his Yale adviser's advice and make a difference.
"The University has developed into an amazing place," he said. "I'll be honest. I was shocked when I read about everything going on here. I knew it was a fine school with great resources, but Richmond is a real leader. We could be an exemplar as universities prepare for the populations that are going to be coming in the next 10 to 15 years."
By the time he arrived on campus full time in July, he had already worn out one Spider baseball cap. He will use the occasion of his inauguration Oct. 30 to convene a symposium titled "America's Unmet Promise: The Imperative for Equity in Higher Education." It's an opportunity to highlight unique approaches Richmond is taking, such as The Richmond Guarantee, which funds a summer research or internship opportunity for every undergraduate, ensuring that financial circumstances don't leave them out of reach. It's also a chance to begin developing other innovative approaches that can direct the University's resources the most effectively. As he had put it to the faculty at Miami, there's no such thing as stasis. If you're not continually improving, you're falling behind.
Ask Crutcher about the direction in which he plans to lead the University in the coming years, and he will talk about continuing to move in the direction of greater excellence, interdisciplinarity, and opportunity for students of diverse backgrounds. He also sees an opportunity to further raise the University's prominence so that its national reputation matches what alumni and students already know so well about Richmond.
Press him further, and he will point to his schedule. He has begun his presidency doing more listening than talking, visiting departments throughout the University and with alumni across the country in preparation for developing the next strategic plan. (Visit president.richmond.edu/welcome for a current schedule of upcoming Presidential Welcome Receptions.)
At one recent visit with a campus department, he took a seat at a podium in the front of a classroom and joked about feeling like a conductor to his audience of two dozen. In his remarks, he referred to the wishes of E. Claiborne Robins, who gave the University $50 million in 1969, a gift that continues to transform the University, not only financially through the substantial endowment into which it has grown, but aspirationally.
"He wanted the University of Richmond to be one of the best private universities in the country," Crutcher said. "And we are, but not enough people know that. There's nothing great about being a well-kept secret."
Matthew Dewald is editor of University of Richmond Magazine.