Yes, some NPS parks are grand, wild landscapes
There's Alaska's Wrangell-St. Elias National Park and Preserve, with its 13,170,000 acres of mountains, glaciers, tundra, and coastline. And the natural magnificence of Yellowstone, Yosemite, and the Grand Canyon pack a big wallop in our national psyche.
But many are small, historic sites
Many national parks were set aside because of their cultural and historic meaning. Among the 413 parks are places like the 5-acre Thomas Cole National Historic Site, home and studio of the Hudson River School painter.
NPS isn't even just national parks
The National Park Service is part of a web of partnerships for preservation and conservation that includes a national system of wild and scenic rivers, a national trails system, National Heritage Areas, the National Register of Historic Places, and the National Historic Landmarks Program.
Managed in partnership with state, local, and tribal governments, National Register listings and National Historic Landmark designations document and recognize historic and archaeological sites, buildings, and landscapes across the country, whether in public or private hands.
There were national parks before there was an NPS
Before Congress established the National Park Service in 1916 to be the national parks' steward, the federal government had already begun setting aside land for preservation.
Abraham Lincoln signed a law in 1864 giving Yosemite Valley and the Mariposa Big Tree Grove to California for park purposes, and Congress created Yellowstone National Park in 1872.
Before 1916, the U.S. Army administered a number of national parks. At Yosemite and Sequoia, some 500 Buffalo Soldiers from the Army's African-American regiments were park guardians, fighting fires, poachers, and timber thieves and managing road- and trail-building.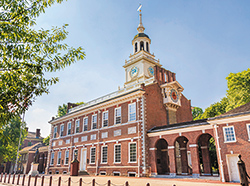 NPS is always evolving
Wars and presidents are major themes in national parks, but the system increasingly embraces a broader sweep of our shared histories.
For example, multiple parks created in the last half-century commemorate the modern civil rights movement, like Little Rock Central High School National Historic Site in Arkansas; the Martin Luther King Jr. National Historic Site in Atlanta; and the Selma to Montgomery National Historic Trail.
Other parks illuminate the necessity of that civil rights movement, like the small plantation in central Virginia where Booker T. Washington was born into slavery, the plantations at Cane River Creole National Historical Park, and Kingsley Plantation at Timucuan Ecological and Historic Preserve.
In this year of the musical Hamilton, it's worth noting that four parks have connections to our first secretary of the treasury: Hamilton Grange in New York City; the Yorktown battlefield; Paterson Great Falls National Historical Park in New Jersey; and Independence National Historical Park in Philadelphia.