For the Richmond women's swim and dive team, traversing the distance between elation and uncertainty took precisely .04 seconds.
"I saw the official's face, and I knew," said freshman swimmer 
Virginia Marsh.
On the opening night of competition at the A-10 championship in Geneva, Ohio, on the final leg of the 800-yard freestyle relay, sophomore Morgan Soulia left the starting block .04 seconds too early, disqualifying the relay.
In .04 seconds, 30 points evaporated, and the defending-champion Richmond women found themselves in a meet very different from what they had hoped for. Like 2010. Like the only time Richmond had lost the championship in 15 years.
"We all knew that a DQ on the 800 relay was why they lost in 2010," said Laura Rokop, '18, a diver.
"I was so devastated," said Soulia, who feared she might have lost the meet for the team. "If it's a close call," she thought, "then those points are on me."
How do you come back from that kind of blow, on the first night of a four-day championship meet? What head coach Matt Barany knew, but wouldn't tell the women: In the history of the championship, rarely — and in more recent, increasingly competitive, years, never — had a team come back from a relay DQ to win.
"History," he said, "was stacked against us."
'a different puzzle every year'
What does it take to build a winning team?
For Barany, there is no blueprint he can take from one year and slap onto the next. Every year, he starts over. Every year, the 26-week season that stretches from September through the A-10s in February presents different challenges, unexpected twists, sudden crises to be navigated. In six months of hard training — 20 hours a week of double practices and weights, dives repeated by the hundreds, tens of thousands of yards in the pool, meets won and lost, all balanced against the academic demands and emotional ups and downs of college life — the blueprint will be drawn new, scrapped, and drawn again countless times.
"I see every season as a process," Barany said. "You are merging all of the different attitudes and experience and personalities — and then to try to get their bodies to perform the way they want their bodies to perform, and the way we know they can perform, is a different puzzle every year."
This year, the puzzle proved particularly difficult to assemble. Illnesses, injuries, and personal problems plagued the team from the start. The assistant coach was recruited away only weeks into the season. The team didn't manage to put a full-strength roster into even a single regular-season meet.
Going into the A-10s, his 12th coaching the team, he knew Richmond's championship streak couldn't last forever. The meet had grown steadily more competitive. Other teams' programs kept getting stronger. In January, with only a few weeks of training left, he acknowledged the uncertainty.
"I think we are all nervous right now," he admitted, "because we are not healthy, because of the unknowns. We don't know what our bodies are going to do in three weeks."
For most of the women, the journey to swimming for Richmond began when they were only 5, 6, 7 years old, all gap-toothed smiles and candy-colored goggles and belly-flopping first dives. By the time they took their plunge for the Spiders, the smell of damp towels and chlorine has perfumed their lives.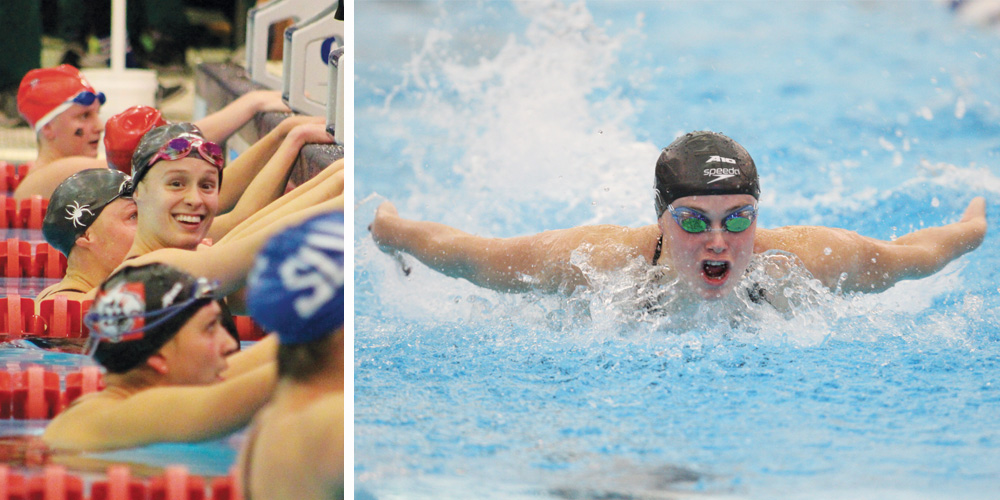 'remember you love swimming'
The highs and lows of a championship meet follow fast upon each other. In two minutes, one minute, or even less, your hopes, your plans, your nerves, your determination, your training — the culmination of your season — play out, event by event. Soulia's meet had started out so well; she'd powered the breaststroke leg of the team's 200 medley relay, helping them take second in the opening event of Wednesday evening's competition.
"I was so excited after the medley," she said. "I was faster than I ever could have believed."
Then came the devastating DQ in the 800 relay. Soulia hadn't DQ'd a relay in years, and now she'd done it at the A-10s. The fourth-place finish they would otherwise have won in the event would have put them within 12 points of the lead. Instead, they finished their first day trailing by more than 40.
On Thursday morning, everyone on the team knew they had to put that DQ behind them and keep swimming their best. For Soulia in particular, though, Thursday needed to be a reset.
"A new day, a new session," she thought as she stood poised for the start of the second event of the evening. It was the 200 IM, or individual medley: 50 yards each of butterfly, backstroke, breastroke, and freestyle.
For most of the women, the journey to swimming for Richmond began when they were only 5, 6, 7 years old, all gap-toothed smiles and candy-colored goggles and belly-flopping first dives. By the time they took their plunge for the Spiders, they were veterans of club teams that train and compete 11 months out of the year — and perhaps also of high school and summer-league teams. The smell of damp towels and chlorine has perfumed their lives. They've carried backpacks stuffed with spare suits and half-finished bottles of Gatorade, clacking with plastic deck passes from senior meets, regional championships, and junior nationals. They've stepped up onto the starting blocks more times than they can remember.
Swimming competitively since she was 6, "I couldn't describe myself without saying I'm a swimmer," Soulia said.
But this year, for the first time in all her years as a swimmer, Soulia knew, glancing up into the stands, she wouldn't find the face of her mother — her biggest supporter, her tireless champion — watching her. In the spring of her freshman year, Soulia lost her mother to breast cancer, and this was her first championship without her.
What had her mother said to her when she hit a rough spot? "Remember you love swimming," she'd told her. "You want to do this."
Coming into the meet, Soulia was seeded 13th in the IM, but in morning preliminary qualifiers, she unexpectedly clocked her best time of the season, vaulting into the top-seed position. Could she repeat that performance with points on the line? As they took their places and tensed for the start of the IM finals, in the lane next to Soulia was the favorite for the event going into the meet, a senior swimmer from Fordham with a powerful butterfly who had won this event in the last two championships. Barany had counseled Soulia not to think about anybody's swim but her own. "Who is she?" he'd shrugged about the Fordham swimmer. "But I couldn't think about anyone else," Soulia admitted.
The starter sounded. The swimmers dove in.
Once in the water, Soulia expected the Fordham swimmer to go out hard and fast, so when they hit the wall at the end of the first 25, Soulia was surprised to find herself with a slight lead. Was she going too fast herself? But she felt good. Coming out of the backstroke, the second 50, she wasn't sure where she was positioned, "But I knew in breaststroke it was time to go," she said, and at the turn for the final 50 freestyle, she still led. "Just bring it home," she thought to herself.
Her hand hit the wall. The finish flashed up on the electronic scoreboard. "I looked up, and seeing the '1' next to my name, I remember screaming," Soulia said. Swimming every stroke for her mother, she beat her own best time from the morning. She captured an unlikely gold for her team. 
"I took my goggles off, and I was crying, and I looked up in the stands, and my dad was crying, and all the parents were crying." Her teammates, too, were in tears as they surrounded her as she came out of the pool.
"When I won, it was every single one of us winning, because every single person had been there for me for the last 10 months," Soulia said. "When I won, it gave everyone a little spark of hope that we can do it."
"That was the moment," said Maggie Pope, '17, "when I knew we had it in us to come back and win."
The highs and lows of a championship meet follow fast upon each other. In two minutes, one minute, or even less, your hopes, your plans, your nerves, your determination, your training - the culmination of your season - play out, event by event.
'you have to turn your brain off'
On the third day, Friday, Richmond still trailed the leader, Duquesne, by 20 points, a gap that with only two days left could prove insurmountable. A couple of bad swims, or — unthinkable — another DQ would certainly cost them the meet.
"Suddenly we are a third of the way through the meet," Barany said, "and I have to prepare for every scenario. Friday morning, I realized we might have to talk about losing."
For senior swimmer Pope, win or lose, the championship was marking an ending of one life — she'd been swimming competitively since she was 5 — and the beginning of another she couldn't yet imagine. Who would she be when being a competitive athlete no longer defined her? Swimming was what she'd built her life around.
"Swimming is who I am," she said.
Friday at the A-10s was also her last opportunity to achieve a frustratingly elusive goal — a best time in the 100 backstroke, a time she'd been chasing without success for all four years at Richmond, a time she hadn't beaten since she'd set a personal record of 55.26 seconds her senior year in high school.
"What is limited by the body, and what is limited by the mind?" Barany had asked his team earlier in the season, and Pope hoped she might answer that question differently on Friday.
Every swimmer understands that the work she has to do each season is as much mental as physical. And what makes swimming unlike any other sport is that yard after yard, lap after lap, set after set — up to 50,000 yards a week, close to 500 miles over the 26-week NCAA season — she swims in solitude, alone with the sound of her breathing, the burble of water and air in her ears like a distant roll of thunder, the fatigue in her body pushed to its limits, the burning hunger for air snatched in brief sips. In a lane 6 feet wide and 25 yards long, there's infinite space for doubt and fear and uncertainty: Will I falter? Will I fail? Will my body find its limit?
"You endure a lot of pain every day," Pope said. "Tolerating the pain and not getting too anxious about it is the tough part." She found the struggle particularly discouraging in her sophomore year, when her times failed to improve and she felt she was disappointing her team, her coach, her family. "I was working harder than I had ever worked, and I didn't think it was doing anything. I didn't think it was worth it anymore."
Barany, a championship-winning collegiate swimmer himself, understood.
"It's a very lonely experience," he said. "When a swimmer is going back and forth in the pool, the only voice they have is their own. There are days when you are going to jump in, and you are in a really good relationship with the water. But I think at some point, every swimmer hates the water. Because some days, the water is not very friendly."
For divers, too, fear is a constant adversary, said head diving coach Sean Letsinger. When you launch yourself into a twisting, spinning whirl of motion, the board you just left and the water below wait to punish imperfection.
"Almost every diver has smacked the water horizontally, and most divers will smack the board, too, at some point," Letsinger said. "It's the nature of the sport. You have to train to be mentally tough in a high-pressure situation."
Mastering a new dive is a step-by-step process of increasing difficulty, and over the season, divers practice the six dives they plan to compete on the 1-meter board and the six dives on the 3-meter board multiple times each day — as many as 80 repetitions a week at the peak of the season. Spring, rotate, twist, tuck, into the pool, out of the water, up on the board, again.
"There are times where a dive is physically ready for competition, but mentally you still need more preparation," said diver Laura Rokop, a former gymnast who began diving in high school. "You have to train it into your body," she said, because at the moment of competition, "you have to turn your brain off."
Rokop's sophomore year, like Pope's, ended disappointingly. "Last year at conference, I did not have a good meet at all," she said. This year, "I wanted to see if I could redeem myself."
After a horrible practice on Tuesday, she finally nailed the reverse one-and-a-half, her "nemesis," the dive she'd been struggling with the whole season "and basically since coming to college," on the 1-meter board Wednesday. On Friday, on the 3-meter, she hoped to hit another reverse dive that had troubled her: the two-and-a-half tuck.
Almost every diver has smacked the water horizontally, and most divers will smack the board, too, at some point. It's the nature of the sport. You have to train to be mentally tough in a high-pressure situation.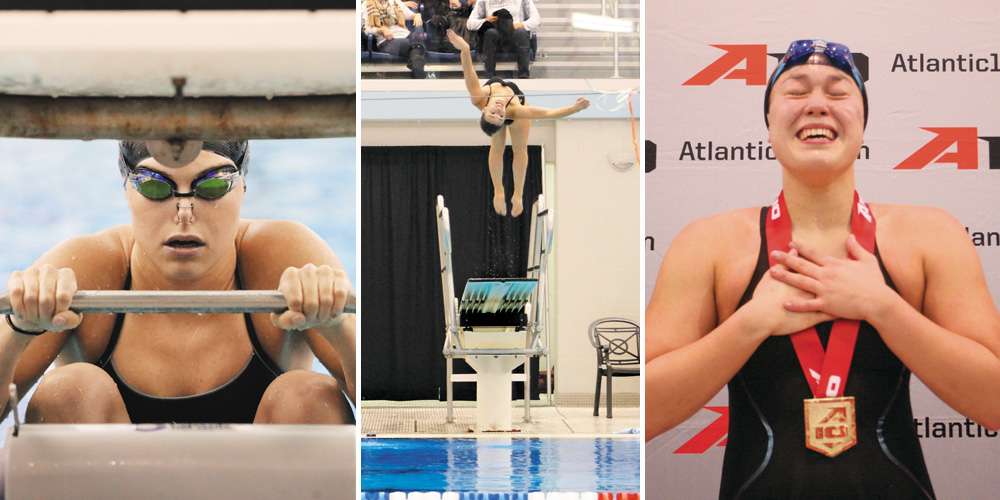 'i just go in and go for it'
Virginia Marsh looked to Friday, also, and the 200 freestyle. The freshman started the season in September with the A-10 February dates already written out in her planner, and in her first year at Richmond, she had goals: She wanted an individual first place win in a regular-season meet. Like every swimmer, she wanted to improve her times. Mostly though, "I wanted to help my team win A-10s," she said.
But then she got sick. Really sick. With the school year barely started, a diagnosis of walking pneumonia pulled her out of the pool for five long weeks. "What gave me the most anxiety was — what was going to happen at A-10s?" she said. "Was I going to be able to come back from this?"
But in January, after that hard start to the year, Marsh touched first in the 50 and 200 free events at a meet at La Salle and found herself named A-10 rookie of the week, an honor teammate Hannah Gouger earned in October.
And now here she was at the A-10s. By the third day of the meet, it had already been something of a roller coaster. She swam the final leg of the first event of the first night — the 200 medley relay — to that exciting second-place finish, barely half a second behind Duquesne. But she was also part of the DQ'd relay, the deflating finale to the night. On Thursday, seeded 11th in the 500 free, she finished sixth, joining two of her teammates in the top eight and helping to push Richmond briefly into first place.
On Friday, though, the team was back in third, with every point counting more than ever. As Marsh, along with teammates junior Annie Lane and sophomore Lauren Wallace stepped up on the blocks for the 200 free, however, she felt confident. The 200 free is her favorite event and her best race. And when the electronic "oink" of the starter went off, "I just go in and go for it," she said.
The 200 isn't a sprint, but it's over in less than two minutes. Slap the wall, shoot a glance at the scoreboard. Looking up at the results, Marsh saw that the event winner had broken the conference record. But second and third place? Those podium finishes, and 33 more points scored for the team, belonged to her and Lane. "When I touched the wall in 200 free, it gave me the most excitement, the most adrenaline, from anything I have ever swum," Marsh said.
'the wave that washed over'
In January, at the end of a winter training trip to Florida, Barany had challenged every member of the team: Can you be the best version of yourself? On Friday evening of the A-10 championship meet, Maggie Pope set her feet against the wall for the start of the final 100 backstroke of her Richmond career — and the final individual swim of the day for the team — with her teammate Hannah Gouger in the lane next to her. When the starter sounded and her body exploded off the wall, arching backward into the water, less than a minute stood between Pope and the final answer to that four-year quest for a new best time.
The backstroke is a blind finish; swimmers can't see the wall, and they have to learn to gauge their final lunge for the touch pad without a clear sense of where their competitors are. Pope hit the wall and in almost the same motion looked up to the scoreboard.
Gouger and Pope. Gold and silver. 37 points. And her time. Her elusive, frustrating best time. It was hers at last: 54.89 seconds.
"It felt so good to finally reach my goal," she said. And even more important, "It was an incredible feeling to be able to look up at the scoreboard when we finished and see how much of a difference our race made in the points. The team really got behind us, and emotions were flowing."
"Hannah and Maggie going 1-2 in back as the final event, that was the wave that washed over the competition," Barany said.
The divers took over next: Rokop hit her two-and-a-half tuck on her 3-meter dive and the satisfaction she'd been looking for coming into the meet. Senior Irina Chiulli took a podium finish.
"It was nice to be done and know that you have done your part," Rokop said. "It was nice that you can see your points helping the team."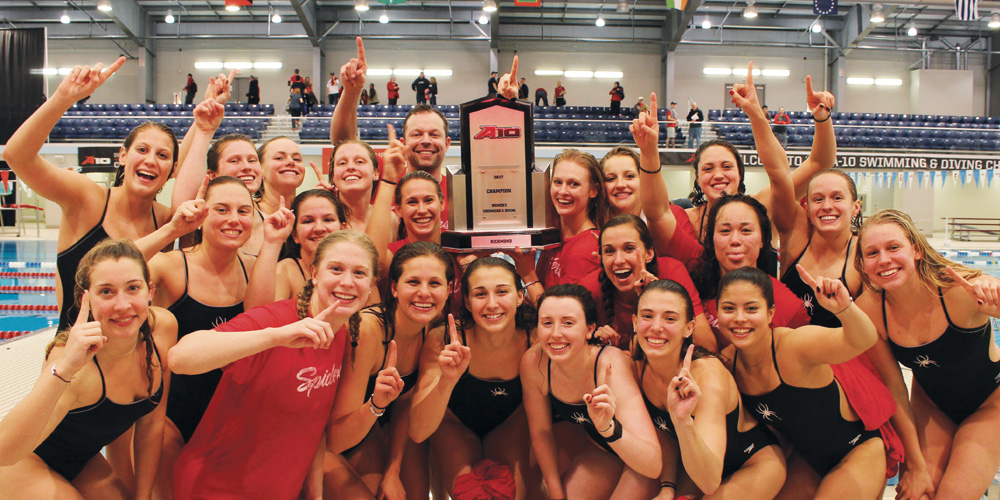 Who can say what the limits of human performance are? Who knows what one's body can do when the will and the want burn fiercely enough? Ending the evening with a second-place finish in the 400 medley relay, the Richmond women scored 224 points across seven events, taking the overall lead in the meet. And if going into Saturday, victory wasn't a sure thing, by the time Gouger and junior Hanna Verrette took first and third in the 200 backstroke and junior Erin Barry, after frustrating performances in her first two events ("She was battling a lot of doubt," Barany said), took first in the 200 breaststroke, it was clear that the Spiders had beaten history as they added to their history. Once seemingly impossibly behind, they had won another championship.
"We had a lot of highs and we had a lot of lows," Rokop said, "and this one was more special to me than the others just because of that. Coming back from having that rough start — it was a very sweet victory."
Those high moments that everyone will remember from the meet are likely to be Soulia's 200 IM victory, Barry's in the 200 breaststroke, and Gouger and Pope's 1-2 finish in the 100 backstroke.
"But it truly does take the entire team," Barany said. "I realize that there are lessons that these young people will take that will hopefully be valuable for them for many years to come. It's not just a championship. It's lessons about how the team is more important than any one individual. It's about not 
giving up."
As the parent of a competitive swimmer, writer Caroline Kettlewell knows the whiplashing highs and lows of championship meets, where hundreds of hours and thousands of training yards can come down to less than 30 seconds of swimming and a team's win or loss can hang on fractions of a second between two swimmers' finishes in a relay. She is a freelance writer based in Richmond.