As a wide-eyed 8-year-old, Tim Finchem, R'69, began to follow his father around the golf course at Naval Amphibious Base Little Creek in Norfolk, Virginia. It was the mid-1950s, and his dad — a Marine gunnery sergeant — was stationed at Camp Lejeune in North Carolina. "I was just hitting the ball around," Finchem said. "I wasn't really playing."
Until it happened. "I can still remember hitting the ball in the air for the first time," he said. "That was a great feeling."
And just like that, the game had him. He would end up serving it for decades of his professional life.
Finchem retired in December after nearly 20 years as commissioner of the PGA Tour. During his tenure, the Tour saw unprecedented television contracts, massive increases in prize money, a broadening roster of stars, and the establishment of signature new initiatives. It rode the emergence of Tiger Woods, survived the Great Recession, and became a charitable powerhouse.
Behind it all was the steady hand of Finchem who, as a boy, developed a love of the game because he had the opportunity to play it.
The Finchem family did not have a lot of money; fortunately, the course on the base didn't cost much. For about a dollar, he could play all day. He did whatever he could to earn a few bucks — not to go to the movies or buy candy, but to play golf. He battled it out often with his father and friends on the naval base links.
In 1957, Finchem and his father drove to Wilmington, North Carolina, to watch the Azalea Open Golf Tournament. There, Finchem first saw Arnold Palmer play the game.
"I was captivated by him," he said.
Palmer went on to win the Masters two of the next three years, including a watershed victory in 1960 that was the first to be broadcast in color. Finchem recognized — even then — that golf was experiencing its first great public moment.
"When Arnold Palmer, CBS, and Augusta National [home of the Masters] all came together, that was the biggest launching point for golf in the history of the game," he said. "And I was one of those people watching."
But it would be something else he was watching that would shape the direction of his early life. Finchem's grandfather had been an elected official in LaSalle County, Illinois — where Finchem was born — and his mother grew up with, as he puts it, "an Irish focus on politics." She sat the 13-year-old Finchem in front of the television to watch John F. Kennedy accept his party's nomination at the 1960 Democratic National Convention in Los Angeles.
For Finchem, it was a defining moment. "That convention spurred my next 20 years," he said. "It skewed me toward idealism and started to get me interested in leadership."
In high school, Finchem stayed true to his love of golf, playing on the team at Princess Anne High School in Virginia Beach, Virginia. It had become clear, though, that golf was not his ticket to college.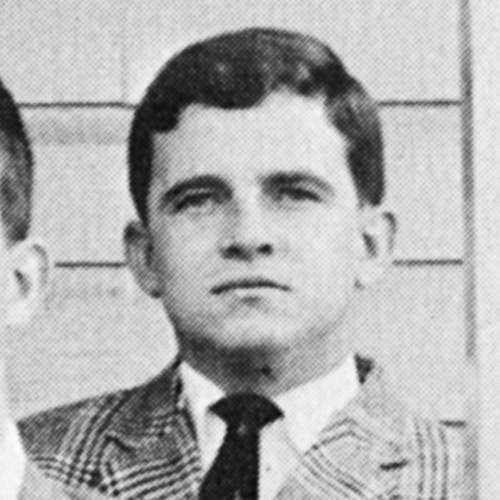 "I was one of six kids," he said. "I wanted to go to college, but I would have to get a scholarship to be able to afford it."
Debate, into which he had fallen because of his love of politics, got him to Richmond.
Bert Bradley, coach of Richmond's nationally ranked debate team, led summer retreats for promising young debaters, often recruiting the best of the group. Finchem was among the attendees.
"We won the state championship my junior and senior years of high school, and I was offered a scholarship to come to Richmond for debate," said Finchem. "It changed my life. It developed my skill set from the standpoint of the way I think, the way I argue. It also led to my interest in law and politics."
During his years at Richmond, Finchem immersed himself in campus politics and leadership. He was a class officer, captain of the debate team, and an active leader in Phi Gamma Delta fraternity, among other things. But he found himself increasingly casting an eye to the simmering political and social scene up I-95 in Washington, D.C.
National events would solidify this trajectory. On a debate team trip to Detroit, Finchem found himself near riots in the wake of the assassination of Martin Luther King Jr. In the summer of 1968, he was on his way to work for Bobby Kennedy's campaign when Kennedy was assassinated.
The self-proclaimed idealist was now moved to action. 
He entered law school at the University of Virginia in 1970, and then party politics shortly thereafter, running congressional and senate races and taking a leadership role in Virginia Democratic politics. He entered private practice in the Virginia Beach area after graduation, but he wouldn't stay there long. Shortly after the election of Jimmy Carter, Finchem received a call from a law school classmate serving in the new administration. 
"I started going to Washington, meeting a lot of people," he said. "One thing led to another, and the president's chief of staff asked me to come work in the White House."
For the next couple of years, Finchem was a deputy advisor to the president in the Office of Economic Affairs before working on Carter's re-election campaign. Exactly 20 years after watching Kennedy's national convention, Finchem was now on the front lines of one. 
After Carter's defeat, Finchem founded a marketing and strategies firm and four years later, moonlighted as national finance director on Walter Mondale's campaign. Another defeat left Finchem ready for a new direction. 
"When the Mondale campaign came to an end, I had concluded I was going to move away from politics, at least for a while," Finchem said.
Finchem and his wife, Holly, decided to move the family (including three daughters, two of them future Spiders) to Florida, thinking he could use the contacts he'd developed through his firm to catch on with a company, perhaps as general counsel. Instead, he wound up working at the PGA Tour, one of his former marketing clients, as chief operating officer. Five years later, in 1994, Deane Beman stepped down as commissioner.
"So," Finchem said, "they gave me the reins."
I'm not one to get whacked-out over anything. And I'm also one to look at how we can do things differently.
The work of the PGA Tour Commissioner falls into two main buckets, according to Finchem. One is that of a traditional CEO.
"You have all of the basic functions that a typical company would have," Finchem said. "You have HR, finance, marketing — all of those things."
The other bucket is what makes the PGA Tour job unlike any other. It's caring for golf itself, the athletes who play it, and the fans who watch. It's both tending the public image of the game and managing the logistics of tournament infrastructure.
Finchem's path to the Tour — both personally and professionally — was custom-built to prepare him for that duality. His mother instilled intellectual curiosity; his father instilled a military discipline. Finchem once told Golf Digest about a time when, as he was leaving the house, his father noted that his shoes weren't shined. The young Finchem suggested that no one would ever know. His father replied, "but you will."
"After that, I shined my shoes every morning," Finchem said.
The man who remembered fondly the first time he hit a golf ball in the air applied the skilled thinking of a debater and the deft hand of a politician to bring people together at a time the game changed at light speed around them.
"I'm not one to get whacked-out over anything," he said. "And I'm also one to look at how we can do things differently."
In two of the defining challenges of his tenure, these skills became stabilizing forces for the Tour, and perhaps for golf itself. One was the meteoric rise and dominance of Tiger Woods, who burst onto the scene with a 12-shot victory in the 1997 Masters. The other, a recession.
One might look at the arrival of Tiger Woods and conclude that a PGA Tour commissioner need only stand quietly aside and let the phenom fan the marketing flames. Overnight, Woods became a household name. From 1997 to 2009, he won 71 tournaments, including 14 majors, and picked up nine player-of-the-year awards. In 2009, Forbes reported that he was the first athlete to top $1 billion in earnings. While Woods was certainly an enormous asset to the Tour, Finchem recognized the potential pitfalls.
"During the years Tiger was dominating, it made it more difficult because he soaks up all of the media," Finchem said. "If you don't have a single dominant player, it's easier to create multiple stars."
In creating more stars, you widen your marketing base.
The challenges presented by the Great Recession were more evident. As the economy tightened, fans rethought how to spend their shrinking discretionary income. Sponsors rethought the distribution of their marketing dollars.
Before the recession even began, Finchem had already laid the groundwork for weathering it. Almost immediately after becoming commissioner, Finchem pushed the Tour forward in ways that proved critical. The Tour made aggressive moves to expand television contracts and digital-delivery channels. With burgeoning success in those areas, the Tour increased tournament purses, strengthening its gravitational pull with players. Golf, once a game where a handful of stars soaked up most of the purse money, now supported a much wider cast of players — think Phil Mickelson, Jordan Spieth, Rickie Fowler, Rory McIlroy, and Sergio Garcia, to name just a few — for whom fans could root.
You want the players to feel really good about what's happening here. The players are the ones the world listens to first.
"We were getting to the point financially that we could attract virtually every good player on the planet," Finchem said. "In about six or seven years, we became a Tour that was probably 40 percent international players."
With that increase in international players came a significant increase in international distribution rights. With more stars, the Tour was mitigating the Tiger effect.
When there was a new idea — such as creation of the FedEx Cup, golf's season-ending playoff format, in 2007 — Finchem, ever the politician, talked to the players first. Professional golfers are not employees of the Tour; they're independent contractors whom the Tour needed to continually attract to be successful. Joe Ogilvie, a player advisory council member, once called Finchem "a master at building a consensus."
"You want the players to feel really good about what's happening here," Finchem said. "The players are the ones the world listens to first. Tiger Woods' name is more impactful than Tim Finchem's. Looking back, near the top of the list of things we accomplished is a strong working relationship with a very smart, savvy group of athletes."
As the recession set in, Finchem invited sponsors to focus on spending metrics. He knew the Tour had the strength to stack up well, so he invited the scrutiny. They also looked at contract terms with sponsors, offering longer-term agreements, increases in cash flow, and other incentives.
"We just tried innovative techniques to get our sponsors through this patch with us," he said. "I knew we penciled out for these companies better than other sports."
Just before the recession, in 2007, PGA Tour purse money stood at $272 million, up from $56 million in 1994, according to Forbes. Five years later, as the nation recovered, PGA Tour prize money defied the odds, growing to $298 million. Ratings remained high, and the Tour maintained a larger, broader audience. Strong tournament branding opportunities and a huge advertising reach signaled that the Tour's strength had seen it through.
So, too, had Finchem's even keel.
"You're going to have downturns — they're cyclical," he said. "The trick is to focus on what you have to do to come out on the other end stronger."
Jay Monahan, Finchem's successor as PGA Tour commissioner, credits Finchem with the strong organization he inherited.
"I have always admired how Tim takes a long-view perspective when dealing with situations," he said during the transition. "I've never seen him react in a way that isn't well-thought-out and without taking a look from all angles. His leadership brought real stability to our sport."
Finchem dislikes the word "legacy."
"I did the job I was supposed to do," Finchem said matter-of-factly on a recent morning in Jepson Hall.
On one level, true. But for millions who play and love the game, Finchem deserves much more credit than that. He was its protector in what might have been down years. He kept golf's most visible public interface — the PGA Tour — thriving at a time it could have faltered. In doing so, he ensured that millions of others could be mesmerized by the game and its stars, just as he had been by Arnold Palmer that day in Wilmington.
Beyond his successes in the business of golf, Finchem also made it a priority of the Tour to give back. Each year, PGA Charities gives millions of dollars to more than 3,000 charities. In 2015, the Tour raised more than $160 million in charitable donations. Wherever the PGA Tour tees it up, the local community wins.
"We have a historical relationship with giving back," Finchem said. "It started in World War II when Bing Crosby and Bob Hope held tournaments to sell war bonds. We are now so recognized on the charitable side that it changes the interface with the communities in which we play. It has become a fundamental part of our culture."
Finchem himself also will continue to give back to the game. Among his achievements as PGA Tour commissioner is the establishment of the First Tee, an organization whose mission is to "impact the lives of young people by providing educational programs that build character, instill life-enhancing values, and promote healthy choices through the game of golf."
Finchem was a key driver in its creation, and he plans to remain active there now that he's retired from the Tour. "Over 11 million kids have now been touched by the First Tee," he said. "We're in over 8,000 schools and have 52 chapters around the country."
It's appropriate that Finchem would find it important to get kids started in the game of golf, the way his father did for him all those years ago. He knows that once the game has you, it stays with you, and you never know who will emerge from the program. Maybe the next Tiger Woods. Or perhaps the next Tim Finchem.
"My family didn't have any money, but I had access to inexpensive golf," he said. "The game changed my life."
And, in turn, he changed the game.
Phillip Gravely, '96, is a longtime fan of professional golf and a recreational golfer. He is the University's assistant vice president for communications and digital engagement.