Old glory
The American flag that draped Abraham Lincoln's coffin on his final journey home, the flag that Marines raised at Iwo Jima, and the flag that Neil Armstrong and Buzz Aldrin planted on the moon — all were Annin Flagmaker flags.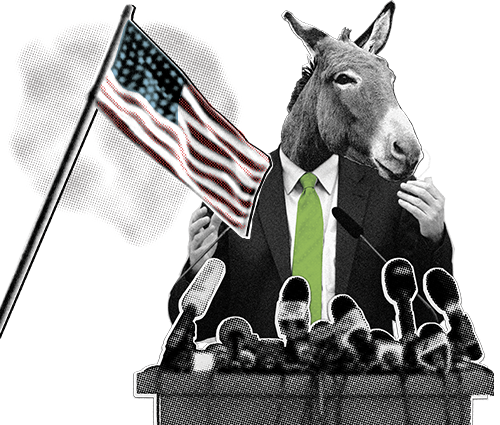 Today Carter Beard, R'87, the sixth generation of his family at Annin, is the company's president. It's still churning out Old Glories that regularly wave above the White House, at state capitols, and on front porches everywhere.
Human rights
"Hooligan?" The Collegian asked in 2009 when the police in Baku, Azerbaijan, arrested political activist Adnan Hajizada, '05, and charged him with hooliganism. Reporters Without Borders says outspoken journalists and bloggers like Hajizada faced a tough choice in authoritarian Azerbaijan: "Shut up, flee abroad, or be jailed on trumped-up charges." Hajizada chose to speak up, holding a press conference while dressed as a donkey to ridicule government corruption. His arrest came two weeks later. He was freed in 2010 after an international outcry and complaints by President Obama to Azerbaijan's president.
Feats of Strength
When Dan Lochner, '05, hiked Mount Everest as a student, it put him just one peak away from becoming the youngest person to complete the Seven Summits. He set his sights on Antarctica's Vinson Massif, but transportation conflicts proved a mountain too high to climb. Another young climber beat him to the peak. In 2013, Zoë Romano, '09, ran the 2,000-mile Tour de France course. That's right: ran. On foot. The elevation changes were equivalent to climbing Mount Everest three and a half times.
At 80 years old, 1892 grad George Whitfield rode his bicycle from Washington, D.C., to Lawrence, Kansas, via Ithaca, New York, in 1953, back before there was an interstate highway system. He made the return trip by train. It was four times cheaper but not much fun, he told this magazine. Open-water swimming's "Triple Crown" — circling Manhattan Island, crossing the English Channel, and swimming from the coast of California to Santa Catalina Island — hasn't been enough for Courtney Paulk, L'00. She's working on nonstop double runs of all three swims. Last year, she tackled two trips around Manhattan Island and across the Catalina Channel. Later this year, she'll swim across the English Channel and back.
Better numbers
Alice Turner Schafer, W'36, took Dean May Keller's advice to "take mathematics courses on the boys' side of the lake" and became a pioneer in her male-dominated field. She went on to a career that eventually took her to Wellesley College and was among the founders of the Association of Women in Mathematics. Its annual prize for an outstanding undergraduate woman majoring in mathematics is named for her.
The pack rats
The cliché that history is written by the victors overlooks the role of the pack rats who stash everything away for future generations to re-examine. 1896 graduate Charles Graves gave us a key photographic record of much of the first half of the 20th century. He was founder and general manager of Wide World Photos, the photo agency of The New York Times, sold to AP in 1941. George Freedley, R'25, collected a Tony Award in 1956 on behalf of the New York Public Library's landmark Theatre Collection, which he created.
And then there's Steve Tilley, R'69. For years, he oversaw the National Archives' JFK Assassination Records Collection. In 2003, Newhouse News Service did a story on one of the archives' most iconic items: the clothing that Jacqueline Kennedy wore on the morning of her husband's assassination. "Everybody remembers the pink suit," Tilley said. It has never been displayed publicly.
Take note
When it comes to history-making news, Spiders have held pens that earned Pulitzers. Historian Douglas Southall Freeman, R1904, won two for his multi-volume biographies of George Washington and Robert E. Lee. Dan Petty, '09, was part of the Denver Post team that won the 2013 Pulitzer for the paper's coverage of the Aurora movie theater massacre. Chris Hamby, '08, received his Pulitzer for a yearlong investigation into coal miners and black lung for the Center for Public Integrity. He quickly signaled where journalism is headed by jumping to a gig at BuzzFeed News as it shifted from memes and listicles to serious journalism. He earned BuzzFeed its first Pulitzer citation in 2017.
Another noteworthy note-taker was Paul Duke, R'47, who hosted PBS's Washington Week, a model of civil discourse, for 20 years. A viewer once sent Duke a letter complaining about the show's "outrageous bias." Duke asked, "Biased which way?" The viewer answered, "Biased both ways!" A sure sign he was doing it right.
Space 
You knew we'd get to Leland Melvin, R'86, chemistry major-turned-NFL draftee, turned-engineer, turned-astronaut with two space missions, turned-Richmond trustee on a mission to advance education at his alma mater. But he's not our only Spider with ties to space. Desiree Stuart-Alexander, W'52, was NASA's first female lunar geologist, and Neil Armstrong carried one of her maps with him on his first trip to the moon. NASA scientist Amy Snyder Hale, '93, brought us pictures of other worlds through her work on cameras aboard the Mars Reconnaissance Orbiter and the Juno probe that flew to Jupiter.
Alongside the triumph of space, Spiders have also seen tragedy. Manfred "Dutch" von Ehrenfried, R'60, was assistant flight director for Project Gemini and supported the first American spacewalk by Ed White in 1964. Three years later, he was at mission control during a national tragedy — the fire aboard the Apollo 1 module during a launch rehearsal. He heard the last words of the three astronauts who perished.
The reformed reformer
During the Civil War, J.L.M. Curry, an early Richmond College faculty member and trustee, fought the Confederacy's misguided battle as a lieutenant colonel but then committed the rest of his life to advancing education for all Virginians. After the war, he became an agent for the Peabody and Slater funds, promoting free public education for all races across the South. The New York Times described his campaign as "bringing home unwelcome truth to unwilling ears," and it drew praise from Booker T. Washington in his autobiography Up From Slavery.
Better Health
Few people in human history have had a role in saving as many lives as John Millar, R'56. He did it by leading the Centers for Disease Control's global smallpox eradication program. Millar enlisted and trained thousands of Africans to administer more than 100 million vaccinations in areas where it still tenaciously spread in the late 1960s and '70s. The World Health Assembly declared the disease eradicated worldwide in 1980. Smallpox killed an estimated half a billion people in the century before eradication. Not a single naturally occurring case has happened since.
Several early and mid-20th-century Spider doctors also broke new ground. The former chair of the pediatrics department at the New York University School of Medicine said Saul Krugman, attd. '33, did "more to eliminate pediatric infectious diseases than any other person ever" by leading the development of vaccinations for measles, rubella, and, in particular, hepatitis B. Alfred Steiner, R'30, was not only President Herbert Hoover's doc; he did pioneering research into the link between high cholesterol and heart disease, landing him praise in Time magazine in 1938.
Milton Ende, R'40, wondered why newborns rarely got cancer and speculated that it must be because of special properties in their blood. With that insight, he and his brother Norman Ende, R '45, became pioneers in the field of embryonic stem cell research, a field whose possibilities are still emerging with potential application for treating conditions as diverse as heart disease, cancer, Parkinson's disease, spinal cord injury, burns, diabetes, arthritis, and others.
Other advances are more modest but no less important. Karen Miller, W'78, co-founded Dome Imaging, which developed the technology that allowed medical professionals to display X-rays on PC monitors. Before he became the name we all know for his remarkable generosity, E. Claiborne Robins, R'31 and H'60, developed over-the-counter remedies that became household names of their own — Robitussin for the common cold, Chapstick for dry lips, and more.
State of being
Jess H. Walters, R'52, helped create a state. He was on the scene in Hawaii in 1959 as liaison between the territorial and federal governments during the transition to statehood. He said the real work came when they restructured 109 territorial agencies into fewer than 20 state departments and aligned local laws with federal ones and the new state constitution.
Public Service
Mary Sue Terry, W'69 and H'86, remains the only woman ever elected to statewide office in Virginia and was the second woman to be any state's attorney general. Elizabeth Tompkins, W1919, became the first woman to be admitted to the Virginia state bar after being the first to enroll at the University of Virginia's law school. "It took them one semester to find out that I was not after a husband and another semester to find out that I could do the work," she told Virginia Law Weekly. "After that everything was fine."
While Queen Elizabeth II is technically Bermuda's head of state, Michael Dunkley, R'80, was its head of government. He served as premier of the British territory from 2014 to 2017 and remains a member of parliament today. And yes, he rocks the shorts the island made famous.
Big ideas, big business
Thank a Spider for every time you've boarded a Boeing 747. Malcolm Stamper, R'47, led a team of 50,000 people in engineering, design, and construction, and built the world's largest factory (the size of 40 football fields) to get the jumbo jet off the ground nearly 50 years ago.
Before Mark Zuckerberg turned dorm dreams into billions with Facebook, there was Josh Abramson, '03. As a first-year student, Abramson and a childhood friend created CollegeHumor, which after three months was pulling in 600,000+ visitors and $8,000 a month. He sold its parent company, which also included BustedTees and Vimeo, in 2006. Plenty of others figured out how to make money online because of current trustee Michael Walrath, '97, who founded Right Media, the company that revolutionized online ad sales in the mid-2000s. Yahoo later purchased it for $850 million — a record deal at the time.
Some entrepreneurs focus on making a simple product really great. Tod Wilson, R'92, owner of Mr. Tod's Pie Factory, became Shark Tank's first entrepreneur with his famous sweet potato pie. He landed a deal that he later withdrew, but Tod's pies are still winning the national taste test.
Behind every top-selling product is a marketing mind. Richard "Dick" Keith, R'55, is the adman whose taglines are stuck in your head, like AT&T's "Reach Out and Touch Someone" and the Army's "Be All You Can Be."
The heroes
When Sean Baran, '07, stepped off a double-decker bus in London's Edgware Underground Station on July 7, 2005, he saw people fleeing into the street. Terrorist bomb attacks had just devastated passengers on three trains and a bus. While some understandably ran away, Baran, an EMT, ran forward, becoming a first responder and saving lives during the worst terrorist attack in Britain in two decades.
Donald Jones II, R'84, was working for a brokerage firm in the World Trade Center in 1993 when terrorists detonated a truck bomb in the complex. He spent the next two and a half hours helping a pregnant woman down the stairs and out of the building. His heroism was recalled when he was one of four Spiders killed during the Sept. 11, 2001, attacks.
Army Col. Thomas H. Felts Sr., R'83, died serving his country outside Baghdad when his vehicle was hit by an improvised explosive device. Then the highest-ranking American casualty of the wars in Iraq and Afghanistan, he had volunteered for the deployment in a war zone to prepare himself to be an effective military teacher. His funeral was held in Cannon Memorial Chapel.
Scott Erwin, '05, postponed his senior year at Richmond to serve with the Coalition Provisional Authority in Baghdad after the overthrow of Saddam Hussein. He taught principles of democracy to Iraqi college students until insurgents ambushed a vehicle in which he rode. He had a long recovery from gunshot wounds to his abdomen and arms but returned to Richmond to finish his degree and go on to the University of Oxford in England on a Rhodes Scholarship.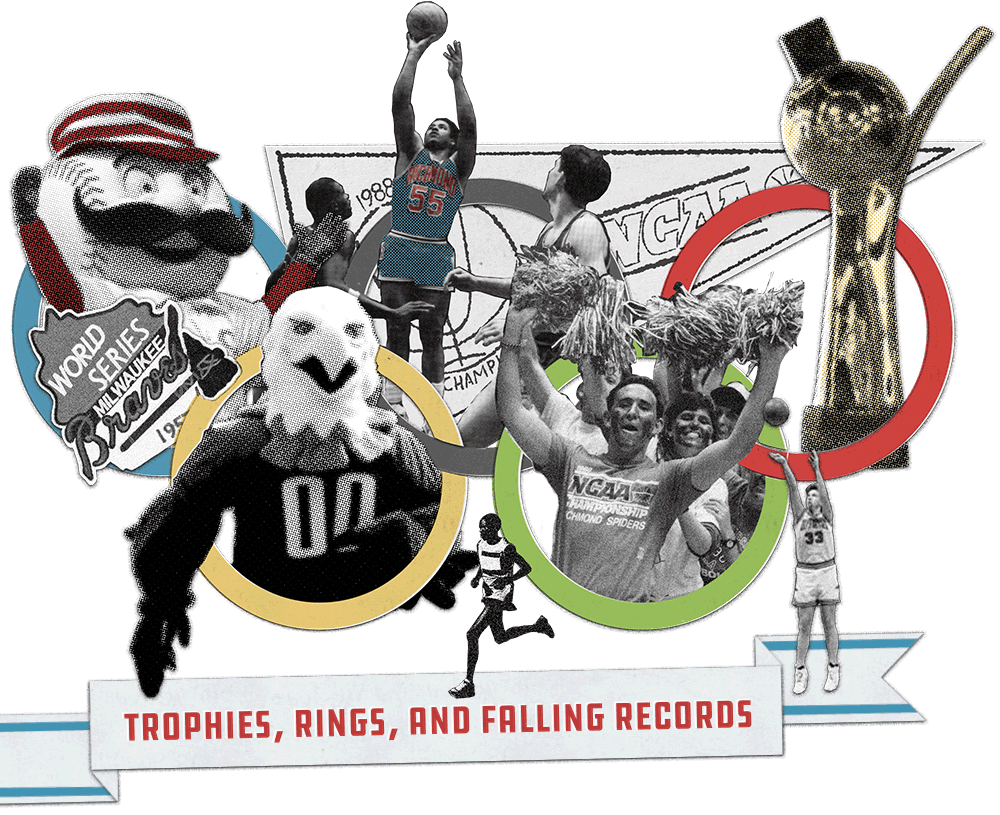 Trophies, Rings, and Falling Records
Cue the highlight reel. Here's two-sport star Brian Jordan, R'89, ranking one spot ahead of Wilt Chamberlain on Sports Illustrated's list of college athletics' all-time greats. Here's Sean Casey, '99, making three All-Star appearances for the Cincinnati Reds. Here are Dick Tarrant, Johnny Newman, R'86, Greg Beckwith, R'86, and the other giant killers upending Charles Barkley's Auburn Tigers in 1984 to make NCAA history as the first 15 seed to advance in the big dance.
Dig back deeper, and you'll find 1941 NFL Rookie of the Year and two-time champion with the Philadelphia Eagles Dick Humbert, R'41 and G'47. And 1957 World Series MVP Lew Burdette, R'49, of the Milwaukee Braves, who pitched a no-hitter and about whom Casey Stengel said, "In the years that I've managed the Yankees, no pitcher has so successfully and completely confused my hitters."
Margaret Stender, W'78, who is believed to be the first female scholarship student-athlete at Richmond, brought the WNBA to Chicago as the first president and CEO of the Chicago Sky. Frank "Gags" Gagliano, R'60, coached 14 American runners to 10 Olympics, and Cynthia Meyer, B'87, represented Canada in three Olympics on its trap shooting team.
Kenyan runner Hillary Tuwei, R'80, would have been an Olympian but for unfortunate timing. In 1976, his country boycotted the games to protest apartheid, and in 1980 it boycotted again to support the U.S. protest of the Soviet invasion of Afghanistan. Still, he was Kenya's Athlete of the Year in 1975 and Richmond's captain in 1980. Rebecca Barry, '15, captained Ireland's U-18 field hockey team in the European Championships and has made 16 appearances so far for Ireland's senior team. Becca Wann Taylor, '14, took home a FIFA gold medal with Team USA as a member of the 2012 World Cup U-20 soccer championship team.
And there was never a model of constancy like Spider women's basketball player and later coach Ginny Doyle, W'92. She didn't miss a free throw from March 1, 1991, until Jan. 22, 1992. Her record streak of 66 stood among all players, men and women, for 18 years. Her coach, Tammy Holder, put it best: "It's part of folklore here."
Entertain Me
Ever jammed to Janelle Monae? U2? Dr. John? The Dirty Dozen Brass Band? R.E.M.? Harry Connick Jr.? Betsy Ayerst Alquist, B'82, helped their music get to you. She is a founding partner and co-owner of Music Shed Studio in New Orleans, where all of them have recorded.
Another Spider, Steve Buckingham, R'71, is the Nashville-based producer behind Alicia Bridges' legendary 1978 disco anthem "I Love the Nightlife" and hits by artists Dolly Parton, Bettye LaVette, Shania Twain, Cat Stevens, Alison Krauss, and others.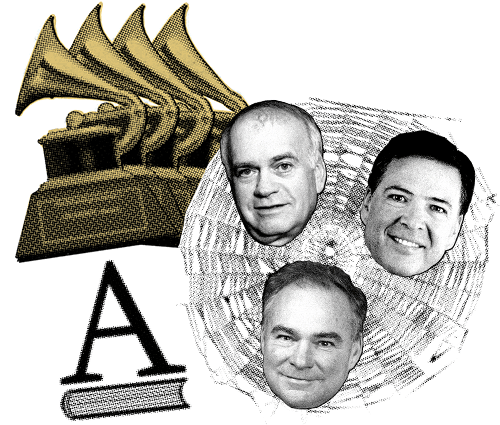 His work has landed him four Grammys, and he's placed singles in the top 10 of 11 different radio charts including Pop, Bluegrass, Latin, R&B, and Jazz.
Man of letters
Writer, editor, and publisher Louis D. Rubin Jr., R'46 and H'72, played a prominent role in bringing Southern literature to prominence as a genre. In addition to his own novels about growing up as a Jew in the South, he founded Algonquin Books, a publishing haven for undiscovered, mostly Southern writers including Annie Dillard, Lee Smith, and Jill McCorkle.
Tangled webs
Key players in current politics have ties to Richmond Law that show how intertwined the Beltway can be. Richard Cullen, L'77, is the lawyer Vice President Mike Pence hired after President Donald Trump fired FBI Director James Comey, who taught at Richmond Law in the late '90s, for his investigation into Trump's ties to Russian election meddling. Another Richmond faculty member, Sen. Tim Kaine, ran against Pence for the vice president's spot.
The resisters
After Brown v. Board of Education declared segregated schools unconstitutional, many Virginia school systems responded with defiance, shutting down districts in a program called Massive Resistance. Prince Edward County students Lloyd, C'06, and Mae, C'06, Jackson responded with decades of Massive Persistence. Even though their high school educations were disrupted, they ensured their two daughters graduated from college and then finished their own bachelor's degrees through Richmond's School of Professional and Continuing Studies.
The first wave of Massive Resistance was over by the time Robert Merhige, L'42 and H'76, was appointed a federal judge, but segregation in Virginia schools remained. Merhige suffered threats, and someone even shot his dog, when he issued pioneering rulings aimed at desegregation in Richmond.
We compiled these entries by digging into old issues of this magazine, The Collegian, and other University publications. Like any historical sources, they reflect the biases and omissions of their times. Help us write Volume 2. Send your ideas to magazine@richmond.edu.