"My camp name is Bagel," the girl who had reluctantly left her dad's side whispered to a counselor she knew only as Franklin. Franklin, aka Lauren Costello, '19, was hiding jitters of her own. Bagel was the first camper to arrive in their cabin, and it was Costello's first year at Camp Kesem at Richmond, too.
Costello had recently chosen the name Franklin — everyone at this camp goes by a special camp pseudonym — in honor of her favorite childhood dog. Helping Bagel pick her camp name was one of Costello's first acts during a weeklong respite for children who have a parent diagnosed with cancer.
Kesem literally means "magic" in Hebrew, and for its participants, CKUR is "Camp Magic." It's magic for the children who, at no cost to their families, spend a week in cabins in the woods with other kids just like them. It's also magic for the approximately 40 UR students who devote a year's worth of planning and fundraising to make it possible.
"I couldn't help making comparisons [of] how her transformation during her first summer at camp mirrored my own," Costello said of Bagel. "We were both put into a situation that pushed us out of our comfort zones [to] meet new people and grow as individuals."
Camp Kesem began at Stanford University in 2000. Today, a community of Camp Kesems offers more than 116 camps for children across the country each summer. Ten years ago, this nationwide community sparked the interest of Christine Ghio Tauchen, '09, who decided UR needed a chapter, too.
One of Tauchen's closest friends from high school had been involved in Camp Kesem at Duke University. She began to look for Virginia chapters of Camp Kesem and discovered the University of Virginia's camp. During her summer shadowing UVA's camp, she got her camp name, Freckles. It didn't make sense to her that there was no UR chapter.
"It was crazy to me because we have the Massey Cancer Center and all of these great hospitals and research centers around here, but they had never recruited east of Charlottesville," Tauchen said. "I figured that there really had to be a need here."
CKUR takes place for one week in August each year at the Westview on the James — 780 acres of rolling hills on a mile of riverfront. The kids who attend CKUR have worries most other kids don't have to think about: fear and uncertainty about their parent's disease, frequent disruptions to accommodate medical visits, and frequently more responsibilities at a young age.
For the first camp, in 2009, Tauchen, along with her co-director and team of coordinators, planned and conducted outreach into the community for 18 months, right up until the first day they arrived at camp, even bringing in therapy dogs for the kids to play with. When it finally opened, Tauchen stood in a large recreational room with a fireplace and finally relaxed as she saw the kids thrilled to see the dogs.
"I breathed a sigh of relief and thought, 'Wow, we did this,'" she said. "It meant a lot to me just to see something that we'd worked on for 18 months unfold in front of me."
That day in 2009, Tauchen took a photo with two campers and the therapy dogs. The two girls in the photo have grown with Camp Kesem and spoke at CKUR's annual Make the Magic fundraiser in March. They will be at the 10-year anniversary camp this summer. The moment in the photo remains one of Tauchen's fondest memories from CKUR, a reminder of the close-knit community she helped build.
Kesem's close-knit community was one of the most attractive things of CKUR when Skylar Gray, '15 — camp name Hippo — joined as a counselor his sophomore year. Gray had seen how his classmates enjoyed CKUR and wanted to experience the magic himself. Despite his excitement, Gray said his first day at camp was "nerve-wracking."
"I remember thinking, 'I hardly know anyone in this organization and can barely figure out what I'm doing next weekend, yet someone wants me to be responsible for children?'" he said. "Seems like a recipe for disaster."
Children shouldn't have to face those fears, and especially not alone.
As a counselor in a cabin of 6- to 8-year-old boys, Gray held "cabin chats" each night to recap the day and focus on specific topics. For one night, the camp invites all campers and counselors to share personal experiences related to the reason they are at CKUR, a parent's cancer. This night, called empowerment, gives each child an opportunity to share his or her own story. Gray believes this is where the close-knit community is solidified.
During Gray's first camp, one of his campers shared something he said he will never forget. The child's parents were using his week at CKUR as a vacation, and he was scared that they wouldn't be able to reach him if something happened to one of them — and what if they didn't come back from vacation?
"My heart broke," Gray said. "Children shouldn't have to face those fears, and especially not alone. And in that moment, seeing his peers rally around him and saying, 'Hey, I've felt that too, but we'll get through this together,' made me understand how important it was that we all were there together. There is light. There is magic that can be found, and we can find it through each other. We can find it through ourselves."
Brittany Woo, '18, was a first-year counselor during Gray's year as co-director. Later, she was part of the first team to hold a successful Make the Magic fundraiser at Richmond and was co-director for the 2018 camp.
"Until stories and experiences are shared, you really don't know what someone's going through," Woo said. "Camp Kesem has opened up the hearts of so many people in a way that they are willing to share those experiences and stories with sometimes complete strangers."
For 2019 co-director Sean Clair, '19, empowerment was an experience unlike anything he has been through before.
"I felt like camp had been reinvented for me," he said, "and I was awestruck at the courage and resolve of all of the campers and counselors."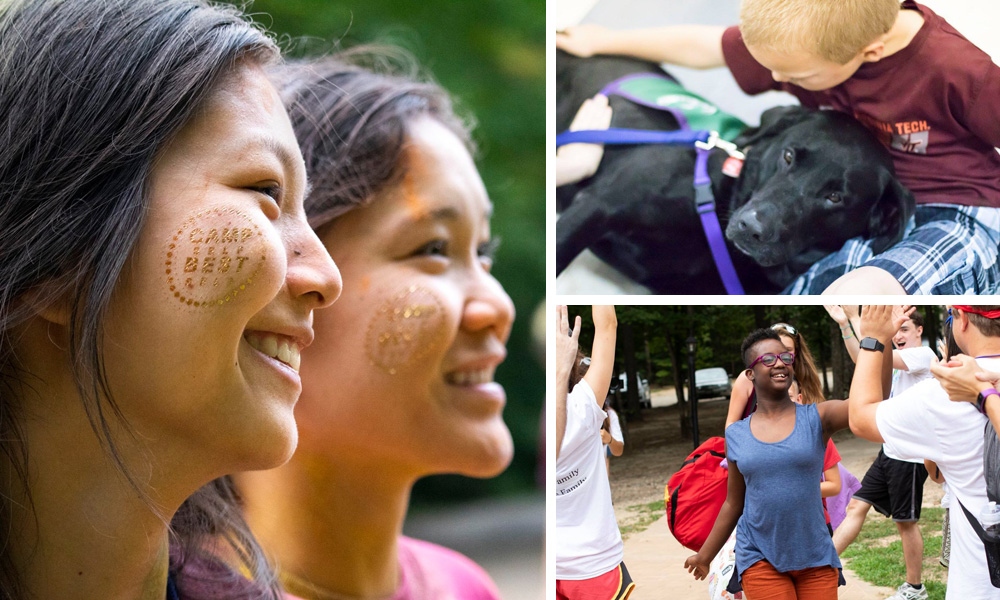 After UR graduation, counselors have the opportunity to stay directly involved through an advisory committee, as Tauchen did for several years. Their experiences at CKUR often stay with them through their careers and lives. For Costello, CKUR solidified her career path.
"Camp Kesem has given me a sense of purpose," she said. "I know that there is so much greater out there than myself. I am currently on the path to become a child psychologist, and that is something I became in tune [with] honestly due to the amazing work that our medical health professionals do during camp."
For Woo, who now works in the development office at UR, the lessons she took from the kids affected her the most. When Woo began volunteering with CKUR, she thought of the time she spent with a nonprofit golf organization, The First Tee, during her childhood and how it became a second home for her. She chose "Birdie" as her camp name.
"I still think about them and how strong and resilient they are, and that makes me want to be a better person," Woo said. "These kids have just gone through so much more than I have, yet they're impacting me, and they don't even know it."
Tauchen, who now recruits at an accounting firm in Richmond, says that looking back, she never knew how much CKUR would end up influencing the counselors.
"I get so excited when I meet students who are involved with Camp Kesem — just the enthusiasm that you hear from those students, who don't even know that I'm involved," Tauchen said. "I never quite anticipated that piece of it. It says a lot about UR and the students who have brought it to this next level."
...
"Hey, you know the story/Call the whole wide world/This is Kesem territory," Woo chants. She quickly acknowledges that Clair and Costello, the current co-directors, can yell the CKUR chant much better.
There is no typical CKUR student. The experience crosses boundaries of social groupings and stereotypes, pulling from across the entire UR community, Woo said.
"Camp Kesem isn't just a sorority. It isn't just a fraternity. It isn't just a sports team," she says. "At UR, sometimes we'll stick with our groups, but at camp there are no groups. Everyone is one big group. There's no boundaries, there's no limits, there's no hatred. It's just all pure joy and happiness, all in one week."
Woo remembers feeling nervous going to her first camp because of the many people she didn't know. She was anxious about whether she could connect with the campers, and many of her fellow counselors were strangers to her. But by the end of the week, several of those strangers had already become close friends.
"Little did I know that these fellow counselors and campers would end up being some of the people I'm most connected to," she said.
Although Giving Tuesday — the Tuesday following Thanksgiving — officially kicks off fundraising and raises $80,000 to $100,000 each year, CKUR never really ends. Kesem is a 365-day job on top of typical schoolwork and extracurriculars, Gray jokes. Official training with the regional director begins in the fall, summer counselors are selected over winter break, and general meetings start early in the spring semester. On top of that, there is counselor training, the Make the Magic fundraiser, and several other initiatives throughout the year.
At UR, sometimes we'll stick with our groups, but at camp there are no groups. Everyone is one big group. There's no boundaries, there's no limits, there's no hatred. It's just all pure joy and happiness, all in one week.
Part of the reason camp becomes so rewarding is that it marks the realization of so many months of hard work within the CKUR community. And while CKUR creates this comforting community on campus, it also pushes counselors out of their comfort zones in the "Richmond bubble" to become part of the wider community.
Costello says counselors have attended Kesem Friends and Family Days each semester, campers' games and competitions, and sometimes even funerals. "We provide them that constant support."
Though the bond within camp is vital to its success, the connection to the Richmond community is just as important. Tauchen, who now lives in the Richmond area, has experienced CKUR from both the inside and the outside. Without the bond between the counselors and the community, she says, CKUR would not work. Her first year, Tauchen spent hours reaching out to the local community to establish CKUR relationships with nurses and social workers, who helped spread the word about the camp.
Ten years later, the community aspect of CKUR is just as important — if not more — in establishing the funding and support for the camp to continue growing.
This past year, Costello and Clair have worked with their coordinator team to continue these relationships, whether distributing flyers at cancer centers or setting up meetings with oncologists and schools.
This spring, almost three years after meeting Bagel, Costello busily planned the 2019 camp — CKUR's 10th — with her co-director, Clair. After being chosen midway through her junior year so she could spend six months shadowing the directors ahead of her, she was finally in the last stretch of getting the 2019 camp finalized.
"Cupcake! Cookie Monster! Lance! Wolf!" Costello shouted out the names of campers during a general body meeting as Clair passed out cards and markers. The counselors wrote letters to each camper, sharing how excited they were about the 10th CKUR this summer. Though she had administrative tasks to finish as camp quickly approached, Costello was excited about being reunited with campers she has seen grow from year to year.
Bagel, she already knew, planned to be there.
Stacey Dec, '20, who began working as a writer in university communications her sophomore year, is a political science and journalism major from Northern Virginia.