The enduring beauty of the University of Richmond's campus can sometimes require a closer look in order to notice change. When you last visited, you likely saw the same familiar architecture and lake, but you also knew that the academic quality and reputation of the institution grows stronger each year. Based on when you studied here, the breadth of amenities, opportunities, and facilities offered to students might even have inspired a mix of pride, envy, and wonder.
One shift, however, is clear: Over the last 10 years, the profile of Richmond's campus community has changed, as the graphic on the following page illustrates.
Richmond's demographic shift has led to enhancements in the educational experience for all students. But until this summer, an elephant in the room hadn't been addressed: how to balance the university's traditionally homogenous history with its increasingly racially, ethnically, and socioeconomically diverse future.
In July, the university published
Making Excellence Inclusive: University Report and Recommendations
, which includes data and recommendations that focus on Richmond's past, present, and future organized around three priorities: representation, belonging, and capability.
"We have included in the report some initiatives, programs, and action steps that we can take to help us become a truly inclusive community," said Ronald A. Crutcher, UR's president. "And when I say truly inclusive, I mean really inclusive."
The review and analysis that went into the report indicates that more work remains to shift the campus culture in order for everyone in the university community to feel as if they have the opportunity to thrive equally — not just academically, but socially.
"The fact that we're addressing the problem doesn't mean the problem will be solved," said Bert Ashe, professor of English. "But the fact that we're addressing the problem means the problem might go some ways to being solved."
Richmond can be a place "where everybody gets something out of it," history and American studies professor Eric Yellin said, "including students who come from a background of privilege and learn something about the world outside of their bubble. The institution has to become a place of change and of transformation, so that it's not that we 'welcome and tolerate,' but rather that we think about what the institution needs to look like 10, 15 years from now."
Unlike many other institutions embarking on similar initiatives, Richmond is not reacting to a crisis, but rather acting on institutional knowledge and values in pursuit of institutional excellence. For instance, when Crutcher wrote a July op-ed in The New York Times about a yearbook photo showing an African American student with a noose around his neck, he also delved into his own undergraduate student experience at Miami University in Ohio. Some of his memories — "I too had experienced the strain of being black on a predominantly white campus" — echo the current thoughts of some Richmond students and recent alumni.

"I don't know that I would say that I felt like I belonged at UR as a black woman," Cheyenne Varner, '13, said. "I felt like I belonged because I chose to be there and I got there. I think there's a nuanced difference in those things."

Spider pride is genuine for good reason. External reviewers and internal data confirm that Richmond offers an excellent educational experience. Its alumni leave equipped to build successful careers and fulfilling lives, as evidenced in the pages of this magazine and elsewhere. However, none of this guarantees an optimal on-campus experience for people of color and other identities who traditionally haven't been well-represented at the university, even with Richmond's increased diversity. This is why Richmond is looking at these issues with the same hard-nosed realism with which it addresses other key questions about the future.

"It's not about linking arms and singing 'Kumbaya,'" Crutcher said. "It's very, very hard work. Very beneficial, but hard work.

"That's one part of it. And the other part is if you have diversity and you're not ensuring that people from diverse backgrounds are interacting with each other in good — and sometimes not-so-good ways because they learn from those as well — then you might as well not have it," he continued.

"In five years, it's not going to mean we're going to be an ideal community. You're not going to find that. But what it will mean is that we will be a community made up of people with the capacity to deal with any issues that come up around people not being included or people feeling alienated from the community."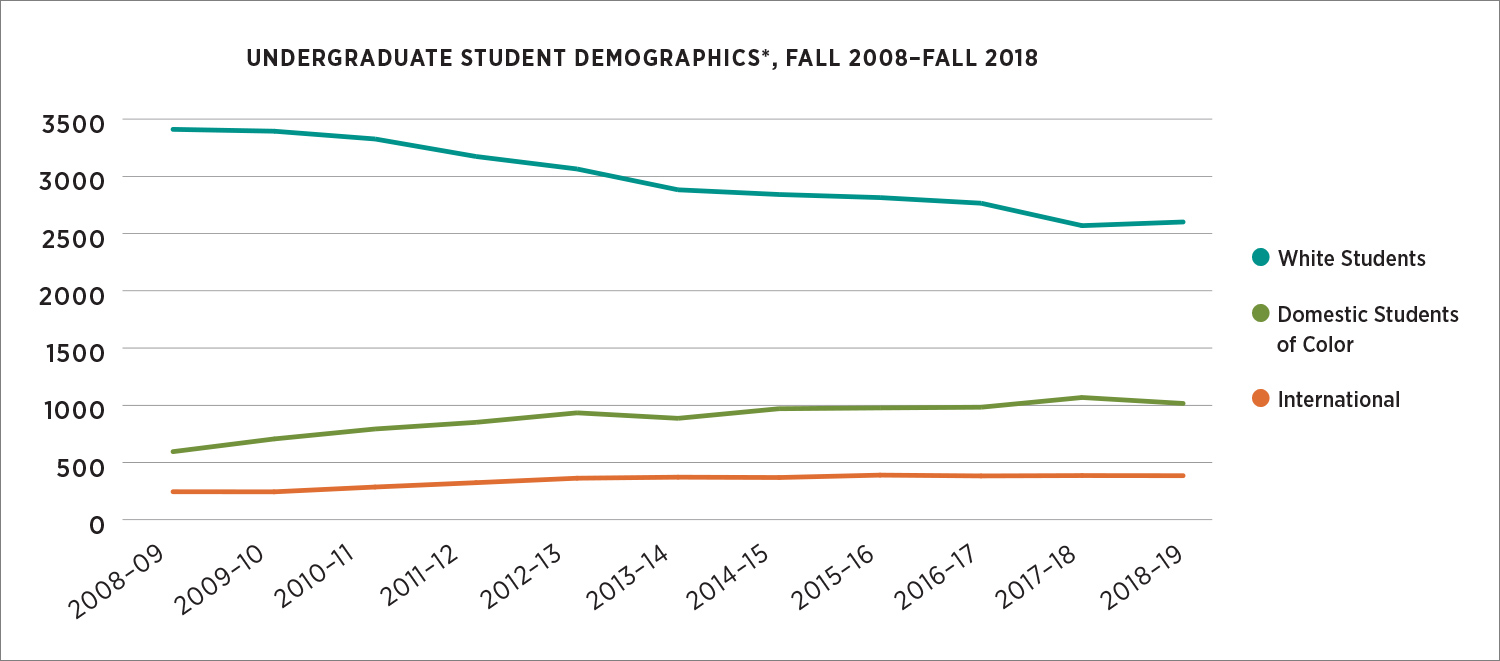 Knowledge of the past
A commission established in the fall of 2018 will continue to improve understanding of the university's history.
When the formation of Richmond's Presidential Commission for University History and Identity was announced in the fall of 2018, it stood out for its "unique challenge," as Edward Ayers, Tucker-Boatwright Professor of the Humanities and president emeritus, described it.
The commission — chaired by Ayers and Lauranett Lee, who will serve as public historian for its work — will illuminate previously marginalized figures associated with the university and "reckon with the issues of slavery, segregation, and desegregation" in Richmond's past, giving context to how the institution we know today was shaped, according to
a report
it recently issued.
"We are doing this as a matter of thoughtful engagement with our past and doing it in a way that is true to what it means to understand the past, which requires time and effort and goodwill," Ayers said. "Our hope and expectation is that as that history becomes more evident to people, they'll feel a sense of being a part of a longer history and, I think, of a sense of the opportunities and obligations that come from being a part of that history."
The commission isn't unique in higher education, but Richmond's history is different from that of universities with well-documented institutional ties to slavery. Still, Richmond's beginnings predate the Civil War, and it is located in what was once the capital of the Confederacy and a center of resistance to the 1960s civil rights movement.
"If we're to be a thriving and inclusive campus, we have to understand the history we came from and how it wasn't always thriving and inclusive," said Lynda Kachurek, head of rare books and special collections at Boatwright Memorial Library.
What to do with this history once it is better understood will raise complex questions. For instance, the commission's recommendation of commemoration and memorialization proposes a deep analysis of Richmond College's first president, Robert Ryland, and Pulitzer Prize-winning alumnus Douglas Southall Freeman, R1904.
Ryland encouraged African Americans to read in his role as minister of the First African Baptist Church in Richmond; he was also a slaveholder. Freeman, who served as UR's rector for many years, wrote a sympathetic biography of Robert E. Lee and defended segregation as editor of a leading Richmond newspaper.
The commission's academic and co-curricular initiative will continue some of the work that's already been started by the Race & Racism at the University of Richmond project, Crutcher said — "just going through archives, but specifically to gather information about President Ryland and Freeman, and then into some documents so we can have some actual information to understand their backgrounds."
For more than three years, the student-driven Race & Racism at the University of Richmond project researched, documented, and shared stories about the institution's complicated racial history. The project will now be folded into the commission's work under a new name, the Race & Memory Project.
Presenting the project's work is a critical aspect of the commission. Whether that means digitizing archives or using ground-penetrating radar to investigate whether there is a burial ground for enslaved people on campus, as some recently discovered early 20th-century maps suggest, the commission's research will position the university to consider how it can live up to its goal of being a more inclusive and therefore more successful educational community.
"In practice, the history of this institution would be known and regularly dealt with in a way that both allowed us to be inspired by our best aspects and to constantly check ourselves about whether we're making up for our worst aspects, the aspects of our history that don't meet our aspirations," 
Yellin said.
Coordination for the future
A council and new senior administrator will guide the university's diversity, equity, and inclusion initiatives.
If, in 2019, a university didn't address its technological infrastructure, it would be negligent, said Glyn Hughes, director of the office of common ground. Setting clear guidelines, hiring employees with significant expertise, and tasking a senior-level administrator to manage it all are consistent with best practices.
The same rationale applies to other issues, including those related to diversity, equity, and inclusion. The university's recent efforts in these areas — referred to as TIDE (thriving, inclusion, diversity, and equity) — have been numerous. However, they have also been diffuse, with various units offering programs and services in an admirable but often uncoordinated way. This approach has led to mixed feelings among campus constituents about the institution's overall effectiveness, as documented in a campus climate survey last year.
"I don't think we necessarily have taken the measures to think about what progress means," said Patricia Herrera, assistant professor of theater.
Hughes and Herrera are co-chairing an effort, called the
Institutional Coordinating Council
, to bring together these initiatives. It includes faculty and staff from across campus and has already made several recommendations, including creating a senior administrative officer for TIDE work.
"I have not ever been a champion of having a chief diversity officer because all too often that individual allows everyone else in the university to abrogate their responsibility to look at these issues," Crutcher said. "What I am a champion of is someone at a senior level who sits at the president's cabinet table and is constantly looking at these issues, who has it as their principal job.
"They can't do it all by themselves, but if you don't have someone who's constantly looking at the data and analyzing it with respect to inclusion and diversity, then nobody's looking at it."
The ICC is now laying the groundwork for defining this position. In the meantime, Amy Howard, UR's assistant vice president of community initiatives of and the Bonner Center for Civic Engagement will fill it in an interim capacity. True to the thoughtfulness that went into ICC's blueprint, she will work with the council in a distributed leadership model that gives a voice to the entire campus. That dynamic will continue when a permanent hire 
is made.

"By piloting this distributed structure, the university is signaling a deep commitment to this work and, I think, a bravery in testing it, exploring it, evaluating it, to put the best structure in place," Howard said. "The ICC will be listening to our students as well, and I think building on the different perspectives and expertise and experiences of our campus community will make our work so much better."

Beyond identifying and closing gaps, the ICC's recommendations will guide the university's senior leaders in supporting Richmond's TIDE values throughout the institution and over time as leadership changes.

"We need to have the university leadership support this, promote it, and espouse it in tangible ways by having them also be responsible for this in their units," said Carthene Bazemore-Walker, an ICC member and the assistant dean for diversity, inclusion, and thriving in the School of Arts and Sciences. "It has to become part of the fabric of the institution, where every unit sees how this impacts the work that they do on a daily basis."
Aggrey Sam is a senior writer and editor in university communications.