It was in February 2004, about 11 months after the start of the second Gulf War in Iraq, when Mark Simerly, R'84, found himself standing by a sand berm in the deserts of northern Kuwait, scanning the vast, beige horizon.
Then an Army major, Simerly was about to command a 37-vehicle convoy of troops, military vehicles, supply trucks, and materiel on a nonstop run from the Kuwait border north to Tikrit, a city just beyond Baghdad. It was anything but an ordinary road trip. Though U.S. forces had vanquished the once-powerful Iraqi army, a relentless, deadly guerrilla insurgency had risen in its place. Reports of enemy snipers picking off American troops, slaughtering them with suicide bombs, or blowing up military convoys with improvised explosive devices — powerful, booby-trapped roadside bombs — were constant.
That afternoon, Simerly and his team were awaiting orders to start the 8,000-kilometer gauntlet through the middle of Iraq, in part under cover of darkness. Though three 50-caliber gun trucks and 80 armed soldiers were the convoy's defense, carelessness and fatigue — or a combination of both — were concerns. Failure to spot an IED or account for a strange vehicle on the road could be as dangerous as an enemy ambush.
Yet as he surveyed the otherworldly landscape, mindful of the planning, training, and preparation he and the forces he commanded had done for the mission, Simerly had an epiphany that has defined his three-decade military career.
Service, he realized, is its own reward; military leadership was his destiny.
"I truly felt privileged that I was the one leading that convoy — that I'd been given that chance to lead American soldiers into combat," Simerly recalls. "I knew I had the responsibility of getting every piece of equipment and every soldier up there to our destination. That was was my job: Accomplish the mission, get everybody there, and to be ready to do our next mission."
Now, some 15 years after successfully getting that convoy to Tikrit, Simerly has risen through the command levels to become a brigadier general, the Army's fifth-highest rank. He's one of 231 officers in that service branch who wear stars on the shoulders of their uniforms.
In reaching that elite level, Simerly has also taken on perhaps his highest-profile and most complex, politically sensitive assignment yet. He was recently selected as the commanding officer of the Army's 19th Expeditionary Sustainment Command in Daegu, South Korea.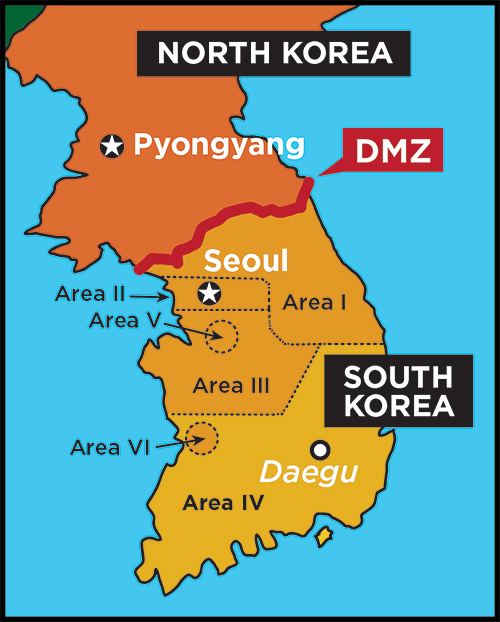 His primary responsibility is the transport and delivery of goods, supplies, and personnel in a country technically still at war, in a region where peace and security depend on the strength of American defenses.
The Korean Peninsula, in fact, has been in the spotlight in recent years and has gotten lots of personal attention from President Donald Trump.
Chasing a nuclear nonproliferation deal with North Korea, Trump has met three times with Kim Jong Un, leader of the reclusive nation. Despite Trump's overtures, Kim's singular pursuit of a nuclear weapons arsenal, including a ballistic missile test as recently as late October, have kept the region and the world on edge.
Yet North Korea isn't just a nuclear threat. Obsessed with acquiring international respect through military power, North Korea has built a formidable army, and the country's agenda includes reunifying with the South — by force, if given the opportunity. As a deterrence, the U.S. and South Korean militaries hold annual joint exercises in the region, but the North's reaction to the muscle-flexing often includes more ballistic missile tests, dialing up tensions even higher.
The Cold War, experts say, can erupt into a hot one in an instant in this part of the world. Hence the motto of U.S. forces stationed in Korea: "Train to fight tonight."
The North's forces "continue to pose a threat to South Korea, Japan, and U.S. forces in the region," according to the 2019 Worldwide Threat Assessment, an annual report produced by the Director of National Intelligence. To enhance his power, "Kim Jong Un continues to pursue advanced conventional weapon programs and capabilities, including more accurate artillery and ballistic missile strike capabilities," as well as armed drones.
Despite the distinct possibility that latent, Cold War-era hostilities could erupt into nuclear war at any moment, Simerly is unfazed and, instead, analytical.
"It's a fascinating time to be here," the brigadier general says. "I've been in many other places where I felt a much greater imminent danger — Iraq and Afghanistan, primarily. I don't have any sense of personal or professional insecurity here."
Given his path to Army leadership and his command style, Simerly's sanguine outlook on the geopolitics of the Korean peninsula might not be surprising. Having studied journalism and English with him at UR — and having been friends with him and his wife, Cynthia Eckenrod Simerly, W'84, since freshman year — I know Simerly to be thoughtful, even-keeled, and rational, traits that serve him well as a commander who would rather work through a problem and solicit ideas than solve it by force of will. Though he's reached a command level few in his profession achieve and served in active combat zones, Simerly is less George Patton and more James Mattis, the former defense secretary and retired Marine Corps four-star general who is so well-read and analytical that admirers called him "the Warrior Monk."
Yet unlike most who reach the general-officer level, Simerly says the Army wasn't a deliberate career choice.
"If you told me I would have a career of nearly 30 years in the Army, close to what my dad had served, there's no way I would have believed it," he says. At UR, "I was probably most concerned about getting through college, then having some opportunity for some unknown unspecified career that would follow."
His career in uniform "was just something that kind of evolved," says Simerly. "Not something shocking," but taking advantage of opportunities, "something that I would have been like, 'Hmm, that's kind of curious. OK, let's see what happens.'"
That includes his decision to attend the University of Richmond, sight unseen.
Growing up on Army bases, the second of three children and the only boy, Simerly admired his father Charles S. Simerly, an Army colonel, aviator, and intelligence officer. The family was stationed in Germany but was headed for Virginia when it came time for the colonel's son to pick a college; Simerly considered the service academies but wasn't completely sure he wanted to don an officer's uniform like his father.
"I wanted a traditional college experience," he says, including the freedom to explore his intellectual interests, following them wherever they led.
"My dad was going to be assigned in the Pentagon, but I was also very interested in a liberal arts education" somewhere near the Washington, D.C., area, he says. Some family friends were former Spiders, though, and they recommended he consider UR as an alternative to West Point or the Naval Academy. An ROTC scholarship gave him the best of both worlds: paid tuition and military leadership training at a small, liberal-arts school in exchange for four years of active-duty service after graduation.
"What I was seeking was ultimately the ability to think, the ability to learn, the ability to communicate," Simerly says. "Those are things that I studied, specifically as an English and journalism major at UR, and I think those fundamental skills have served me well."
He still remembers how he felt when he received his acceptance letter.
"With the admissions packet there was a little map of the campus," Simerly says. "You know, something just really appealed to me about the school. And my first visit to the campus, the summer before my freshman year, really confirmed that choice. I really felt at home."
His choice of academic majors paid off, too: He met Cynthia when he interviewed her as a reporter for The Collegian. She'd made news by petitioning the E. Claiborne Robins School of Business for access to the curriculum, something she and other liberal arts majors didn't have at the time.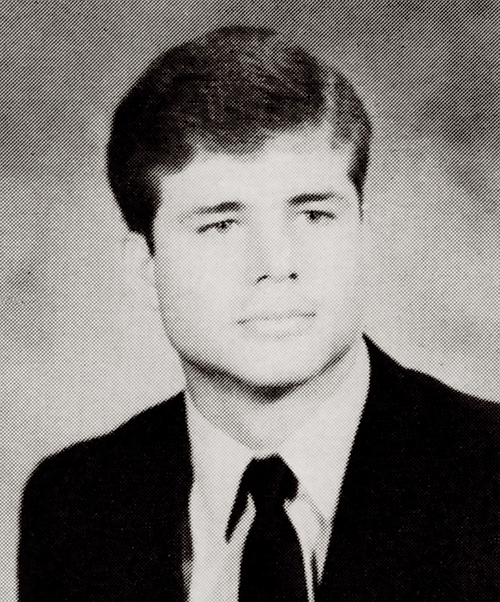 After graduating summa cum laude in 1984, Simerly decided he wanted to serve in the military — but as an Army lawyer, not in a field command. But law school at the University of Virginia, after deterring his active-duty commitment, dealt him arguably his first significant setback: After just two semesters, Simerly abruptly dropped out. The decision, over which he'd privately agonized, stunned friends and family, caused Simerly to second-guess his career path, and planted seeds of self-doubt.
"I realized that [law] was not going to be the right profession for me," Simerly says. "I didn't make that decision in the most deliberate manner. So that caused me to question my abilities. It caused me to question my maturity as a young man." And, since the Army sponsored his education, Simerly owed them service. The time had come to pay up.
Rather than an obligation, however he saw it as an opportunity for redemption.
"It became a second chance to prove to myself and prove to others, especially my loved ones, that I was capable of doing well," he says. "Not to sum it up too simply, but a lot of my early drive to succeed in the Army was to redeem myself from some poor choices."
Commissioned as a second lieutenant, Simerly began his military career as an artillery officer but gradually transitioned into military logistics — moving equipment, supplies, and personnel, sometimes in and out of combat zones. It was during the early years and his first combat tours as a logistician when the Army began to seem like the right fit for him. It's also when Simerly acquired his taste for leadership.
"My dad served as brigade commander — 33 years in the Army, three tours as a pilot in Vietnam," Simerly says. "So I was certainly inspired by his example. And I was attracted, I guess, in some ways early on, to the adventure of the profession. That's still something that appeals to me. Every time I ride in an Army helicopter, I think about the fact that I'm not wearing a tie sitting in an office — that what I get to do is fundamentally cool."
Still, "I think it really comes down to one word for me — leadership," he says. "Besides being a husband and a father and other family roles, the opportunity to lead soldiers has been the most rewarding thing I've done in my life, the most fulfilling thing. And there, it's not necessarily just about leading soldiers."
Contrary to stereotypes, Simerly says, Army leadership is more than shouting orders or charging headlong into battle, guns blazing. In his view, a good commander is selfless and disciplined, taking satisfaction in the achievement of others — a thinking person's vocation.
"I think there's something intangible about leadership that's innately rewarding when you have the opportunity to be part of a team and then to lead a team success," Simerly says. "On any kind of team, you get that sense that your personal success matters less than the success of the entire team and the organization. So that's no doubt a component of the attraction of the military for me."
As Simerly rose through the ranks, so did the level of his responsibility, from leading a platoon of some 40 soldiers as a newly commissioned lieutenant to company commander as a rising young captain, leading 150 troops.
"I determined after my company command, which is kind of the crucible of military leadership experience, that I felt I was suited to the Army and that the Army was suited for me," he says. "Then my next goal was to be a successful battalion commander. I had the opportunity to command a battalion, about 1,200 soldiers, take that battalion to war [in Iraq], and come back with everybody."
The Army also invested in those leadership skills, sending Simerly to a series of selective training and postgraduate education programs — including the National Defense University in Washington, D.C., and the elite United States Army Command and General Staff College at Fort Leavenworth, Kansas.
During his tours of duty in Iraq and Afghanistan, Simerly was responsible for supporting Army units in active combat. That meant sending personnel — members of his unit, soldiers he'd trained — into hot zones, knowing there was a chance the mission might fail or draw an enemy attack.
"Making tough decisions about sending America's sons and daughters into harm's way is the essence of leadership — balancing mission requirements with soldier welfare," he says. "You never rest easy when your units are conducting operations until the mission is complete. I can recall nearly every detail of patrols conducted over a decade ago due to the intense focus and scrutiny — particularly when those patrols were transiting hazardous terrain. During operations along a corridor near the Iranian border — we called it 'IED alley' — we could barely breathe until we cleared the danger zones."
The ability to think, the ability to learn, the ability to communicate -- those fundamental skills have served me well.
 Though Simerly sleeps better at night, by far, in Daegu than he did in Baghdad, Tikrit, or Kabul, his new command requires taking the threat from North Korea seriously every day without fail. Preparing to engage with the enemy, at any hour, is central to the mission, and there are frequent reminders that his unit is at the tip of a spear pointed at Pyongyang.
The day begins before dawn with a morning workout, a mix of running and resistance exercises at the base gym. An hour or so later, in green camouflage fatigues and boots — the standard Army field uniform — and a small star on his chest, Simerly begins his administrative duties. Meetings with his command staff go beyond routine check-ins; even the terminology of office work underscores the seriousness of his new command.
"We refer to our daily/weekly routine of meetings as a 'battle rhythm' so that each day we have a predictable series of collaborative reviews of different functions in the command," he says.
As the senior U.S. military leader and public official in Area IV, which includes Daegu, Simerly can have an agenda that includes sessions with elected officials or his counterparts in the South Korean Army ("to improve our alliance," he says), occasions that call for dress blues but also a security detail and driver, an entourage typically granted an envoy or White House-level representative. Those meetings, Simerly says, can be equal parts diplomacy, strategy session, and contingency planning. The goal: ensuring coordination between leaders of South Korea's fourth-largest city, its military, and the troops at Simerly's command, should the worst-case scenario unfold.
Though he is placid about his current assignment supporting U.S. troops in Korea, all eyes were on the peninsula in June 2019 when President Trump traveled to Seoul for a summit with South Korea's president, Moon Jae-in. Trump even made history at the demilitarized zone by briefly setting foot in North Korea, raising expectations the United States would soon reach a peace deal. Not long after the visit, however, North Korea sent a missile over the peninsula — sword-rattling that frayed nerves in Seoul, in Tokyo, and throughout the region.
Simerly, however, says he's where he belongs.
"Here's probably the best way I could put it: I feel like I'm doing what I was trained to do. I feel like I'm doing the work that I was made to do. I believe in the military. I found my vocation and the thing that I'm more passionate about than anything else, [other] than being a member of my family."
The one-star general recalls a favorite quote that summarizes his come-what-will philosophy, a mindset that defined his path from Army brat to UR honors graduate to senior commander of a critical geopolitical post. The line isn't from Friedrich Nietzsche, Colin Powell, Sun Tzu, or any of Simerly's mentors in uniform. It's from Joe Strummer, frontman of legendary punk band the Clash and Simerly's rock 'n' roll hero.
"The future," he says, quoting Strummer, "is unwritten."
Joseph Williams, R'84, is a senior news editor at U.S. News and World Report. He and Simerly were classmates, fellow English majors, members of the "Justice and the Circuit Rider" Viewers Club, and good friends in their days at UR.