It has been 13 years since young Deamonte Driver died, but Debony Hughes, W'84, still gets frustrated — angry, even — just thinking about it.
Back in 2007, Hughes, a veteran dentist, was the director of a county health program in suburban Maryland and an emerging powerful voice for including dental care in overall health care policies. Having spent years serving low-income and poor patients, Hughes had experience with government health care bureaucracies — systems that tangle poor children and families in red tape, keeping them out of dentists' chairs and away from prevention and treatment.
So, when she heard the news about Deamonte, a local middle-schooler who died from an infected tooth, Hughes was stunned. The boy lived in the same county where Hughes served, but the safety-net health care system had ensnared his mother when she tried to get help for her son. It was a case study, she realized, in everything she had spent a career trying to prevent.
Never again.
"It made me recognize that everyone doesn't know how to access care," says Hughes, now the director of oral health for the Maryland Department of Health. "Our public health system is not where it should be. And we were not really addressing the needs of these children."
That principle — care for those who can't care for themselves — has been the lodestar for Hughes, a guiding principle that has taken her from her hometown in the foothills of Virginia's Blue Ridge Mountains to the verdant hills of Vermont half a continent away to her current home in Washington, D.C.
Hughes' fierce advocacy for the underserved was sparked by her time in Middlebury, Vermont, a quintessential Yankee mill town, where she provided treatment to local patients who couldn't afford to pay for it. It continued a decade later in Prince George's County, Maryland, where she worked in a modern low-income dental clinic in the wealthiest majority-African American county in the nation. And it led her to the halls of the U.S. Senate, where she described her work treating poor Americans who languish in developing-world conditions — and suffer in silence — despite living in the world's richest country.
Now, as the top dental official in the Maryland Department of Health, Hughes is speaking for the voiceless amid the coronavirus pandemic, a relentless contagion that swept into the U.S. and hit African American and Latino communities particularly hard. Black and Latino adults in their mid-30s to mid-50s have died from COVID-19 at rates six to 10 times higher than whites, according to a June report by the Brookings Institution. Besides unmasking America's deep social and economic inequities, coronavirus infection and death rates have exposed long-standing disparities in dental health and treatment, problems hidden in plain sight.
Hughes' commitment to improving community health through oral health starts, she says, with a simple conviction: Everyone should get first-class dental care, no matter their income level. That determination, however, is the result of pragmatic yet fateful decisions she made on her path from the Westhampton campus to public health advocacy.
"My career has led me to public health — it wasn't a choice," says Hughes. "I didn't decide, 'OK, I'm going to be a public health dentist.' It just happened for me. But it was a really good fit."
Her self-description as an accidental champion for the needy seems at odds with Hughes' direct, no-nonsense demeanor and her path to the medical profession.
Growing up in Lynchburg, Virginia, the daughter of two educators, Hughes was so focused on going to medical school that in high school she often spent her free time in a red-and-white-striped uniform volunteering at the local hospital instead of hanging out with her friends. Inspired by her father, who earned his doctorate when she was a child, she was prepared to hit the books to make it happen.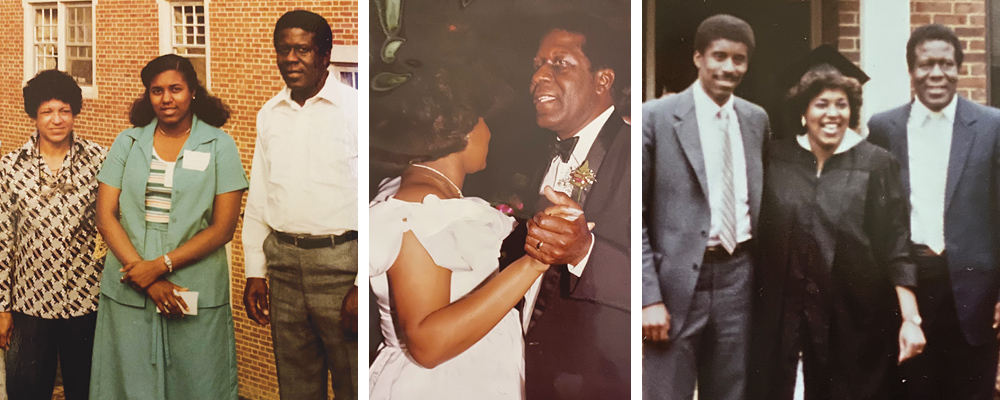 "I knew I was going to be a doctor. There was just no question about it," says Hughes. "I was a candy striper. [In school] I looked into what needed to be done to become a physician." She had even picked pediatrics as her specialty.
When it came time for college, young Debony was just as single-minded: She chose the University of Richmond sight unseen — no backup plan or safety school. Her dad's recommendation was good enough for her.
"Richmond is the only school I applied to — seriously," Hughes says with a chuckle. "My parents are in education, and my father talked about the school. He didn't really have a connection, but he knew about it, and he thought it would be a good fit. I didn't want to go far from home. Early-decision, and that was it for me."
Her anticipated beeline to a lab coat and stethoscope took an unexpected turn, however. Although an honors student in high school, she faced challenges as a student at UR.
"I remember my battles in chemistry and the support of the faculty," she said. "Not once was I told, 'This is not for you.' I always felt like my Black life mattered."
She graduated with a bachelor's degree in chemistry, but her grades weren't going to get her into medical school, a big disappointment. That meant a choice: Abandon her dream of helping heal sick children, or find another path to medical school. She decided the way forward ran through Washington, D.C., where Hughes took a clerical job at a local hospital and shored up her academic transcripts with science classes at Howard University and the University of the District of Columbia.
Though the detour was frustrating, Hughes says, it led to an opportunity. A professor at Howard suggested that dentistry might be a more compatible path for Hughes, and Howard offered a summer program for promising students who needed an educational boost.
The suggestion paid dividends. After the course, Hughes was admitted to Howard's College of Dentistry in 1987. Dentistry suited her, but the coursework was a challenge.
"My third year in dental school I had a brief moment — 'I can't do this. It's too much,'" she says. "But I quickly pulled myself together.  I was taught as a child that you don't give up because something is hard or obstacles get in your way."
Not long after graduating from dental school in 1991, Hughes married Leroy Nesbitt, a student at Howard Law School. Soon, Hughes found herself in New England with her new husband, who'd been recruited to work at Middlebury College, his alma mater. The newlyweds traded urban, predominantly Black Washington for upstate Vermont, where African Americans make up just 1.4% of the population.
"I went to Vermont not knowing what I was going to do," Hughes says. "I was not going to open up my practice there because I knew we wouldn't stay there — it was temporary."
The fish-out-of-water experience, however, helped illuminate Hughes' professional North Star.
"I met all the dentists in this small town — specialists, general dentists — and none of them saw Medicaid patients," Hughes says. People who didn't have dental insurance and couldn't afford to pay out of pocket weren't getting treatment, so she decided to fill the gap.
"I became the provider for these patients that no one else would see," Hughes says. The gratitude of her patients — some of whom hadn't seen a dentist in years — made it "an amazing, amazing experience." But not before dentist and patient experienced a bit of culture shock.
"I think I was probably the first black female dentist they've ever seen. The assumption was that I was a hygienist," Hughes says, bemused. "I would have to laugh. I didn't have any racial slurs or anything like that. But the looks …," she says, mocking a quizzical expression.
It also changed a preconceived notion: Poverty wasn't just urban and Black.
"People don't think that white people are poor, and there are plenty, and they have very serious problems," she says. "So it was eye-opening for me as well as for them."
I was taught as a child that you don't give up because something is hard or obstacles get in your way.
Eventually, Hughes and Nesbitt returned to Washington, his hometown and her adopted one. Instead of going into private practice, Hughes took a job in a dental clinic for low-income residents of Prince George's County, an affluent suburb where African Americans make up 63% of the population.
Hughes recalls the heartbreaking case of a downcast 8-year-old girl with a mouthful of cavities that her mother couldn't afford to fix.
"Her mother just sobbed when she brought her child in — all of her front teeth were black," Hughes says. "Of course, she got teased in school. She didn't do well because she couldn't concentrate — she was in pain. You could tell she was a sad child. She did not smile."
The course of treatment was painstaking and took months; mother and daughter faithfully arrived for one treatment after another. The final result left Hughes speechless.
"You could feel your heart melt," Hughes says, beaming, still grasping for words to describe the emotion. "That child was happy. She smiled for the first time. That's something you just — you know, I can't even ... I don't even know what to say."
As the years passed, Hughes moved from dental practitioner to administrator, looking to make a difference at the policy level rather than one patient at a time. But the frustrations she experienced when she was a dentist — bureaucratic mazes, a public health system focused on treatment, not prevention — seemed magnified. And the largest one is long-standing racial disparities in oral health.
Centers for Disease Control and Prevention data tell part of the story: While a 2019 report found that among Black and Hispanic children, the prevalence of untreated tooth decay had generally declined, it also found that their white peers have better overall oral health, higher rates of dental insurance coverage, and easier access to treatment. Hughes says these disparities affect minority practitioners as well as their patients.
"It is a struggle because [Black dentists] see most of the minority patients, and a lot of them don't have insurance or Medicaid," Hughes says. "We don't have a lot of patients walking in and saying, 'OK, I can accept the $40,000 treatment plan. I need 10 implants, so let's get started.'"
When the coronavirus surged across the country, dentists were forced to shut down to avoid spreading the virus. But CDC guidelines for reopening urge practitioners to wear full personal protective equipment, changing it between patients, and to avoid any procedure that creates aerosol mists, the principal means of coronavirus transmission. Hughes believes these protocols might make dental disparities even worse.
It's simple economics, she says: Reimbursements for treatment of Medicaid patients often don't cover expenses for dentists who operate on thin financial margins even in good times. Those dentists, she says, could struggle to meet anti-coronavirus guidelines, and some may close.
Her pragmatic streak kicking into gear, Hughes wonders how those practices can stay afloat with rising costs and declining revenue, particularly since dentists are advised not to do common revenue-generating procedures such as filling cavities. The procedure, she says, usually involves repeatedly spraying water or air on a tooth.
"So how are you going to meet the demands of your patients and at the same time — let's be real — make any money?" Hughes says. "I'm predicting that we're going to see increased access issues because practices are not going to be able to see these vulnerable patients at the same rate as they used to. So now what's going to happen?"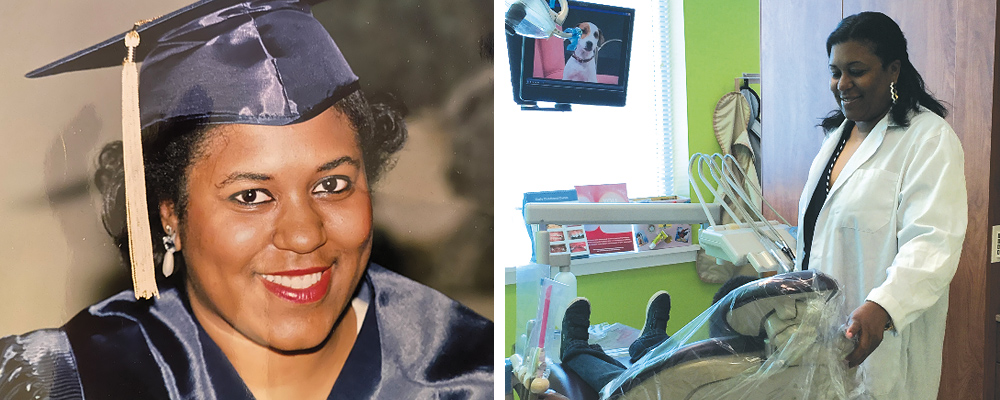 Over the years, "we've worked very hard" to decrease emergency department visits for oral problems "because we know that they go nowhere," Hughes says. "When you go to an emergency department, you usually are going to get a prescription" and be sent home instead of being treated for a dental problem.
Such was the case of Deamonte Driver, the 12-year-old boy who died from an infected tooth.
When his mother took him to the hospital when he complained of a lingering headache, doctors treated him for a sinus infection but noticed his abscessed tooth, prescribed antibiotics, and sent him home. But Deamonte ended up back in the hospital and underwent two operations after bacteria from the tooth reached his brain.
Deamonte died not long after that. A routine $80 tooth extraction might have saved him, but his mother had no health insurance and was entangled in red tape when she searched for a dentist to help her son. Neither Deamonte nor his younger brother had ever received routine dental care.
"I spent many, many hours thinking about it," she says. "He was in Prince George's County. We had a public health clinic in Prince George's County. I was [county] dental director at the time. We weren't approached to see the child — his mother didn't. And I'm not sure why."
The tragedy led Hughes to join a task force to examine how the system failed Deamonte and to search for solutions. One involved her membership on the board of directors of the Maryland Dental Action Coalition, a newly created nonprofit advocacy group. Hughes' advocacy work caught the attention of the influential U.S. Senate's Committee on Health, Education, Labor, and Pensions, which called her to testify in 2013.
Questioned by Sen. Bernie Sanders of Vermont, Hughes said that dental care and oral health are overshadowed by medicine, even though a healthy body must include a healthy mouth. And the health care system for the poor hasn't prioritized basic care, such as examinations, cleanings, and X-rays that can catch problems early.
"Children are required, when they go to school, to have immunizations. Why are they not required to have been seen by a dentist?" she asked. "There are a number of children where, had we not seen them, they could possibly be Deamonte Drivers."
Sanders seemed impressed by his former constituent.
"Dr. Hughes, thank you for the work that you do," he told her. "Our job is to make very, very significant improvements so we never see another Deamonte Driver in this country again."
Ultimately, Hughes says, lawmakers and the medical industry must recognize that oral health is part of public health and fund it accordingly.
"It's all about education," she says. "That's why advocacy and education is so important — it's a continual process. We have organizations like the American Dental Association working constantly talking to legislators to help them to understand how important it is to have funding for dental access for our adults because our children are covered now."
And her advocacy work is unlikely to stop. There's more work to be done, including reducing cavities in children, which Hughes says is the single most common preventable childhood disease.
"I'm the type of person that, once I decide what I'm going to do, that's what I do," she says. "I'm proud to be what I am."
Joseph Williams, R'84, is a senior editor for U.S. News & World Report who writes about social determinants of health and access to health care. He and Hughes were classmates at Richmond.