In the first half of the 20th century, 1905 Richmond College graduate David Carver took dozens of trips to China and taught at the Provincial School in Nanking from 1907 to 1911. He also brought Chinese culture to UR, donating more than 140 Chinese ceramics.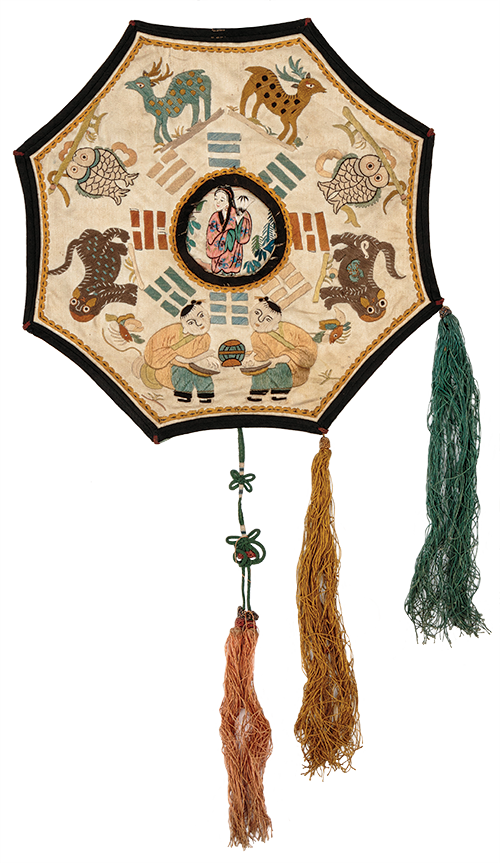 Selections of these ceramics have been on display for years in the Lora Robins Gallery. But one of his donations, made in the 1960s, was tucked away in a decorative chest and forgotten for more than 50 years.
This hidden treasure re-emerged when the admission office staff relocated from Sarah Brunet Hall to the new Queally Center and someone opened the chest. That's when another Spider with an interest in Chinese culture began studying the textiles.
"If you look at the symbolism of the pieces, they correspond clearly with symbols that have been present in Chinese artistic tradition for centuries," said the researcher, Marcin Jerzewski, '18.
He is now curating an exhibit of the textiles called "Stitching Culture: Chinese Embroideries from the Carver Collection" that opens in the University Museums Feb. 8.
"This is a fantastic opportunity to work with material that has not seen the light of day for 50 years," said Richard Waller, director of museums.
Jerzewski, a double major in political science and Chinese studies, is fluent in Chinese and studied abroad in Taipei, Taiwan, working at the National Palace Museum. He said its museum was "the greatest place" to research Chinese culture and hopes to share Chinese art at Richmond.
"I have a strong personal interest in the arts," he said, "but with most of my academic endeavors, I tend to focus on the social and political dimension of however we define China."