Early in a scrimmage this spring, a William & Mary striker broke through the Spider back line chasing a through ball. Hot on her heels was center back Victoria Huxtable, '22, who caught up and ran pace-for-pace with her, suffocating every option except a shot at the left side of the net, where keeper Jessica Stanfill waited. Job well done.
It's plays like this that last fall earned Huxtable a start in every game and had her playing the most minutes on the team as a freshman. They also earned her a look from Jamaica's national team as it finalized its roster for the FIFA Women's World Cup in France in June and July.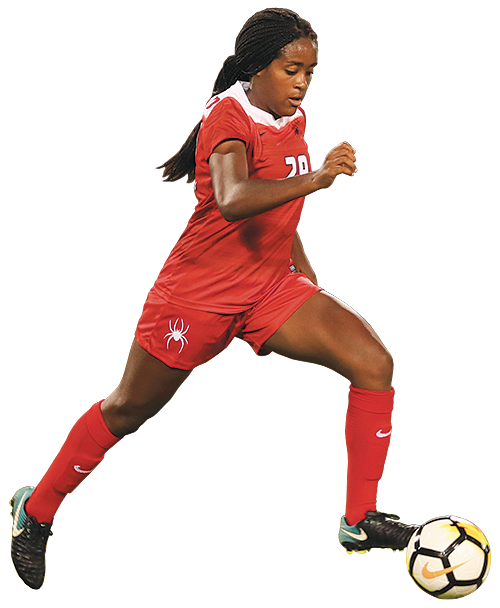 Jamaica, the first Caribbean team ever to qualify for a spot in the tournament, invited Huxtable as one of 12 newcomers among 33 players to a training camp in January. The team will select 23 to take to France. Huxtable was still waiting to hear as the magazine went to press.
She called the possibility "surreal" but said that, either way, she took away important lessons from camp.
"The soccer there was really good, fast-paced," she said. "A lot of these girls play pro because they're a little older. ... I think my confidence is going to rise from this, and my eagerness to play has risen."
At age 19, she has time to keep developing her game and maybe compete for a roster spot again as the 2023 Cup approaches. "I'm just going to keep pushing hard and working hard until I can be my best," she said.