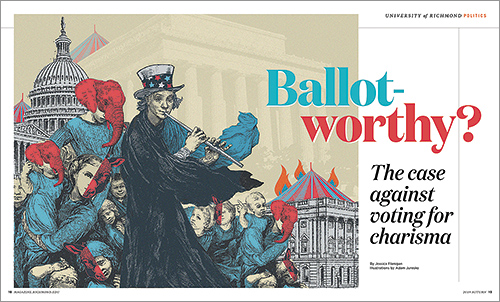 VOTER STRATEGY
I very much enjoyed every aspect of your Autumn 2019 University of Richmond Magazine. It's the best from cover-to-cover that I can remember. Jessica Flanagan's thoughtful article was especially enjoyable.
Our recent Virginia experience shows the importance of one vote. While I agree that "individual votes are unlikely to be decisive," we only need to look at the 2017 Virginia legislative elections to see just how important one vote can be. In 2017 [as reported then by USA Today], "Republican incumbent David Yancey was the victor after a small canister holding a slip of paper with his name was drawn from a ceramic bowl. Yancey claims the 94th district seat in Newport News, and the GOP will retain its majority by 51-49."
—R. Kirk Jonas, G'77
Henrico, Virginia
I was disappointed and rather surprised to see the latest issue feature a clearly partisan front-page essay regarding charisma. The writer presented sophomoric arguments for avoiding a candidate's charisma in determining who deserves my vote. She then describes the "charisma" factor of several current Democrat[ic] candidates to demonstrate that their charisma would likely work against them while their policy positions might well be worth a vote. Donald Trump is the unspoken stalking-horse, but the inference is clear.
Stating that policy positions are the key determinant, she then proceeds to muddy her argument by introducing "morality" as an even more important factor in the decision process without clearly stating her definition of the word. Judeo-Christian ethics? Islamic morality? Sexual, criminal, judicial, etc.? Given these false equivalences or suggesting that any candidate can consistently meet such severe tests of perfection, she seemingly closes with the argument that the decision should rest upon the "morality" of the person even if the policies he or she espouses are not to your liking.
I would argue that past presidents' scores on a charisma/policy/morality scale would differ from voter to voter. While voting based on charisma alone is clearly foolish, those who possess it are usually more effective at getting their policies adopted, and policy is the critical question that voters must consider.
—Charlie Crist, GB'85
Culpeper, Virginia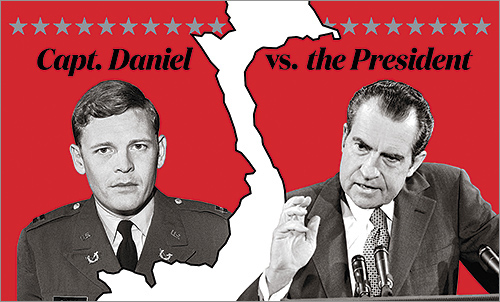 A CHILLING DETAIL
Enjoyed the article about the trial of Rusty Calley and Capt. Daniel, my brother-in-law at that time. Hopefully he will write a letter to our present president.
I am writing to clarify my sister's name in the article. Unfortunately, she is now deceased, but at the time of the trial she was Shirley Hanbury Daniel, Class of '64 Westhampton College. Always known as "Bucky." Later, she married Robert B. Williams.
Even after all those years, it gave me chills to learn it was deemed necessary for her to be given security protection during the delivery of her second child.
—Ann Hanbury Callis, W'54
Virginia Beach, Virginia
NO INSIDER KNOWLEDGE
I love reading the magazine but was disheartened to read misinformation in a story [stating that] people buy properties in locations because of "insider knowledge" of waitlists ["Fairer Organ Donation," Autumn 2019].
I work at the United Network for Organ Sharing (UNOS), the national organization that is contracted by the federal government to regulate organ transplantation here in Richmond, and I submit this on behalf of myself, not UNOS.
There is one national waitlist, based on organ, and there is no back door or insider knowledge. Here is a great FAQ page about how the process works and how candidates can get on the waitlist: https://unos.org/transplant/frequently-asked-questions/.—Emily Ward, '04
Richmond
CHEERS FOR COOLEY
I read with interest your article on defense lawyer Craig Cooley. I was fortunate enough to have Mr. Cooley as a professor for a pre-law class my senior year back in 1992.
As a double history and political science major, I had a lot of good professors, but Craig Cooley — though only a part-time adjunct who taught only one class a year for the love of teaching and the law, as opposed to the money — was the best professor I ever had. I remember many of the lessons he taught us in class about the law, about life, about human nature and humanity, and about the fundamental right to the best possible defense.
Had I had him or someone like him earlier at UR, I'd be a lawyer myself today. As it stands, I am saving this article for my son, who is coming home for the holidays from his university where he is an aspiring law student. I'd be proud if he ends up anything like Counselor Cooley, a lawyer devoted to his profession and dedicated to the law.
Thank you for the memories and for a great article on one of Richmond's finest.
—Scott Glover, R'92
Gilbert, Arizona
#SPIDERSPOTTING ON @URICHMOND
During a summer study abroad program, Ana Shimeall, '20, showed off her #SpiderPride in Zaña, Peru, with classmates Jack Drake, Reuben Davis and Gibran Merchant, and Elizabeth Lopez-Lopez, '21. They traveled there with physicians, nurses, therapists, and students from VCU through the Richmond Global Health Alliance to help provide health services in rural communities.
We welcome your thoughts about the current issue. Share them with us via magazine@richmond.edu.