MIXED REVIEWS
I was a student-athlete and graduate of UR, class of '64. For many years I was proud of my association with the University.
Recently I received the UR magazine and read with extreme interest the article on the issues of the upcoming election and interviews with students and professors ["The 2016 Election: A Spider's Guide," Autumn 2016]. By the time I was finished, my blood pressure was up dramatically. Not because I was surprised by the content, but because it confirmed what I already knew.
Our education system is failing our children and grandchildren. I have known for some time that the political persuasion of the vast majority of your faculty is liberal. While I was a student there, Dr. Steward, School of Business, frequently conveyed to us that his job was to teach us HOW to think, not WHAT to think.
Unfortunately, that is not happening today.  That philosophy cultivated the common sense and ability to reason we were all born with. It also explains the primary complaint that business leaders have today about job applicants: They lack critical thinking skills.
—Jim McGuffin, B'64
Glen Allen, Virginia
I just finished reading the current issue of the Richmond magazine, and I wanted to say thank you for your current work.
I have to admit that for the last six years or so I have hardly glanced at the magazine and immediately sent it to the recycling bin. The last few issues, though, have grabbed my attention. The new design scheme, the more progressive and balanced focus, and the recognition of much-needed change within the University are a breath of fresh air. I feel like the magazine is now representing the Richmond I want to believe in: the place that taught me to confront my privilege, question ethics, and go deep intellectually.
I am so grateful to see this Richmond and not just the typical athletics or collegiate atmosphere represented. Thank you for caring about design and for providing intellectual depth to the publication. I now look forward to the next magazine in my mailbox.
—Jordan Wade, '08
Durham, North Carolina
Outstanding cover with good articles on President Crutcher and basketball player Ken Atkinson ["On Listening" and "A Spider in Brooklyn," respectively, both Autumn 2016]. I would be careful decorating the University with the likes of Tim Kaine.
—Ernest Scott Strother, R'63
Nathrop, Colorado
A PROUD MOM
Dear Bob [Black],
Thank you for traveling to Brooklyn to honor Kenneth's head coaching job with the Nets ["A Spider in Brooklyn," Autumn 2016]. A great article. It makes us all proud. After he spent so much time away from New York, we are thrilled that he is back home.
Kenneth's choice of Richmond gave him early exposure and team success. We love the University of Richmond. Thanks for everything. Go Spiders!
—Pauline Atkinson and family
Northport, New York
TRENDING
@urichmond Your Digital Scholarship Lab redlining mapping project is an amazing work of scholarship. Absolutely fantastic work. Thank you.
—@thestile1972 via Twitter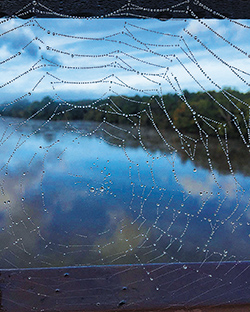 Just some water drops that actually look like a spider!!!! (go spiders).
—@madison_sweitzer via Instagram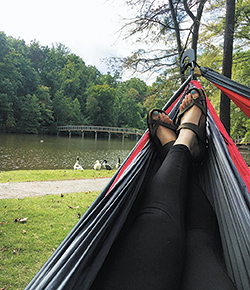 This photo was taken a few short moments before triceragoose attacked.
—@squiddbb via Instagram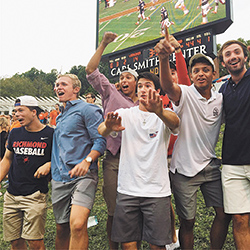 When you're trying to take a picture but @spiderfootball is too busy rolling over UVA #RollSpides #FCS #HooCares?
—@djlee911 via Instagram
Vegan daughter at college: Can I come to dinner tonight? I miss you guys.
Me: Sure! Can you swing by D-hall @urichmond and pick up dinner?
—@KarenRFM via Twitter
Thinking of @urichmond today because it's FINALLY cool enough in #SC to wear a scarf and drink #Spider Cider! #fall #UR.
—@Kayleigh_MWC via Twitter
Friday mornings at @urichmond are the best. Definitely my favorite time of the week when I was there.
—@Sweet_Lou612 via Twitter
Send us photos with your UR sweatshirt, ballcap, scarf, flag, baby Spider's onesie, this issue's cover, or however else you show your #SpiderPride for next issue to
magazine@richmond.edu.