Correction: In our last issue, we misstated the dates of the Rev. Wyatt Tee Walker's pastorship at Canaan Baptist Church. He served from 1967 to 2004. We regret the error.
A GRACIOUS MAN
I read with much sadness about the passing of Dr. [Bill] Myers in September 2016.
My husband and I visited UR in September 2015. Although Dr. Myers was not expecting us, he warmly welcomed us and spent over two hours showing us around the science building and proudly sharing all the exciting activities in the chemistry department and the sciences in general. He could not have been more gracious with his time and knowledge. Simply, the wonderful professor I remember so fondly.
Thank you for your work on the magazine. I enjoy keeping up with my fellow Spiders.
—Suzanne Kelly Bates, W'84
Belle Mead, New Jersey
KEEN EYE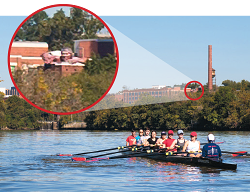 I am not sure if it was intentional or not, but the background of the inside cover picture of the Winter 2017 issue of U of R Magazine shows the statue Connecticut.
The original placement of the statue was to be in Washington, D.C., but it ended up atop a Best Products store in Bethesda, Maryland. In 1985, it began keeping an eye on spectators entering the Diamond to see the Richmond Braves. Now he stands guard above the mighty James River atop the former Lucky Strike building, keeping an eye on the James River and the Spider Crew.
I feel like I am more a part of American and Virginia history when I go downtown to the James River to fish the spring shad run and see Connecticut leaning over the Lucky Strike building.
Thanks for making U of R Magazine even better and an enjoyable publication.
—Alex "Bo" Ulasiewicz, R'77
Richmond
MORE ON POLITICS AND THE ACADEMY
Mr. McGuffin's comments in the winter edition that universities should teach the students to think versus preaching toward conservative beliefs or liberal beliefs are good ["Letters to the Editor," Winter 2017]. My feelings are that professors like Dr. Steward, who I had also, should teach students to think and then let the students decide which way they want to lean [politically]. We need, as parents, to allow our children to make their own choices and not push them the way that we think. The professors have the right to be liberals or conservatives, and they have a right to express it. The students do not have to accept their thinking.
Today's students are the next generation, not us. They will be the ones who make the future decisions. [I have] two grown sons. I have no idea which way they lean. Both are smart enough to make their own decisions.
—Roger Collier, B'66
Midlothian, Virginia
In reading an article from the last excellent magazine, there was mention that our band no longer plays "Dixie" at our football games ["The Tales We Tell," Winter 2017].
If still true, save the postage by discontinuing your fine magazine. I had no idea that such intellectual fascism had taken root at the University, in the '70s no less. After all, the narrative of political correctness has now reverted to a more sane correctness. I believe our last election indicates thusly.
Certainly, mature adults can agree to disagree. Do continue your effort in keeping all informed. You can't please everyone, for sure. I am thankful to know of the political drift of the university, but not of its direction.
—Robert Bullock, R'64
Bozeman, Montana
TRENDING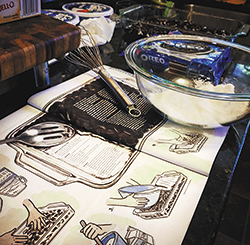 If I'm going to be home sick again, I'm going to make Jersey Dirt, damnit. @urichmond #jerseydirt #gospiders
—@shoppher via Instagram
D-Hall jersey dirt was a fave of the #Gottwald ladies!! Probably owe much of our success to it …  @CaitlinLeeSmith #Spiders #Gotty    
—@Kayleigh_MWC via Twitter
Sunday reading @urichmondmag and watching @MeetThePress.
—@ledermark via Twitter
The red items in my wardrobe continue to multiply! Once a , always a  & proud of it. #proudtobeaspider @SpiderClubUR @URichmondMag
—@PatriseS via Twitter
Literally the only red thing in my wardrobe @URichmondMag #chinesenewyear
—@RosaMarks8 via Twitter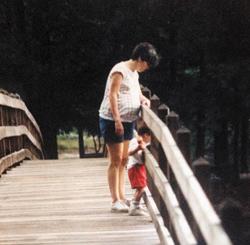 Late July 1990: My mom (days before my birth) and brother feeding the ducks at Westhampton Lake. Little did she know we were both future Spiders!  
—@hg00dy via Instagram
Send us photos with your UR sweatshirt, ballcap, scarf, flag, baby Spider's onesie, this issue's cover, or however else you show your #SpiderPride for next issue to
magazine@richmond.edu.