A WIN FOR THE CHIROPRACTORS
As a proud Spider, a practicing chiropractor for the last 23 years, and a newly minted golf fanatic, I was thrilled to read about the positive impact having a chiropractor for a dad has had on Richmond golfer Elsa Diaz ["Twists, turns," Spring/Summer 2017]. Although encouraged by many professors (Rohaly, Evans, Kinsley to name a few) during my years at UR to pursue my desire to become a chiropractor, it was not always a decision that was supported. I sadly recall a certain psychology class being taught at the time that portrayed my chosen profession as about as valuable and real as witchcraft, voodoo, and Bigfoot. Thanks, UR Magazine, for spotlighting just how valuable and real chiropractic can be, and best of luck for next season to Elsa and the rest of the two-time champion UR women's golf team.
—John Jones, R'91
Columbus, Ohio
ERB'S LEGACY
I just read the article in the latest U of R Magazine about the Richmond Choir directed by James Erb ["Taking note," Spring/Summer 2017]. I was a member of the Glee Club in 1960, and we toured in the Virginia area. I remember Professor Erb with fondness. He was a great director and leader, and we members of the Glee Club had a great experience.
Even though he left us many years ago, I still have a love for music and miss those days. I know he is probably leading a choir in heaven, and his legacy will always remain on the University of Richmond campus.
—Fritz McCormick, '63 (attd.)
McKinney, Texas
A REAL PRO
Super article in UR Magazine ["The commish," Spring/Summer 2017]. What a great profile! Tim, all alums are proud of you.
—Jeb Hockman via LinkedIn
SPIDER LOVE
Suddenly in love with @urichmond mascot after Matthew Dewald's funny-smart letter in URichmond mag ["There's only one," Spring/Summer 2017]. Might have to buy a new #Spiders tshirt.
—@gayleggb via Twitter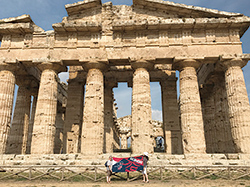 HAVE FLAG, WILL TRAVEL
Post coast trip, #Paestum #Poseidonia @urichmond  mom & @urspcs alumna Proud & grateful  family
—@GotGovt via Twitter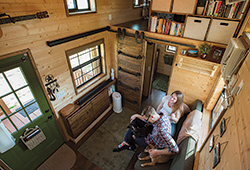 ROOM FOR OPINIONS
[In the Spring/Summer 2017 issue, we profiled Lindsay, '07, and Jared, '08, Knight, who live in a 310-foot-square house and were expecting twins. As promised, we followed up after their birth with a story on magazine.richmond.edu, and Spiders weighed in when we posted the story on facebook.com/urichmond.]
Wow. I consider my 1700sq foot 2 bedroom place a tiny house. I can't imagine having twins in a space smaller than my bedroom.
—Amanda Garel via Facebook
NYCers have been living in tiny houses long before this craze. They invented the word small.
—Libby Kurlak Maxim via Facebook
Ah yes but most NYCers aren't mortgage and rent free
—Lindsay Knight via Facebook
Sometimes I want to dump the 4BR house and get down to basics like that. Focus on what we NEED, not all the clutter we accrue absentmindedly.
—Jennifer Hocken via Facebook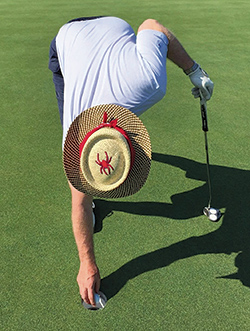 SPIDER SWAG
#SpiderSummer 2017 is in full swing! Here's a shot from Steve Aronson (@sja1214), R'87. Don't forget to show us how you're spending your summer with #SpiderSummer.
—@urichmond via Instagram
Clever Spider!!
—@lknspider via Instagram
100% need that hat
—@tjgriego via Instagram
LOVE the hat!!!
—@urmom4utvols via Instagram
Dope!!!
—@rebel2thecause via Instagram
SPIDER PRIDE
Best 4 years of my life. Thank you Richmond. #SpiderNation.
—@tjcline6 via Twitter
Send us photos with your UR sweatshirt, ballcap, scarf, flag, baby Spider's onesie, this issue's cover, or however else you show your #SpiderPride for next issue to
magazine@richmond.edu.