BRUUUUCE
My U of R magazine came today, and I was excited to read your "Back Then" article about the Springsteen concert ["Springsteen Plays Keller Hall," Autumn 2017].
Mike Horwitz was my freshman year roommate in the "barracks" — we were in Barrack D. Mike joined me and another fellow (a VCU student) in our apartment in the Fan for our junior and senior years. I remember well going to several of the Child and then Steel Mill concerts around Richmond during our junior and senior years. I still recall how Glenn Habel got us all so excited about this band.
I also remember the concert in the old U of R gym. We all sat on the floor listening to the greatest concert we had ever heard. I sat in the front row with my Nikkormat camera and took the picture that was included in the article. I suspect that this photo appeared in The Collegian newspaper. I thought I had the only copy. (I guess you didn't know who to provide the photo credit to.)
At that time, I and Douglass H. Lees III, a classmate, called ourselves "Zilch Zion Enterprises," and we took most of the photos that appeared in the weekly newspaper, literary magazine, and most of the yearbook photos (non-portraits) from 1970 to 1972.
—Nahum "Humi" Vishniavsky, R'72
Newton, Massachusetts
Editor's note: The photo appears in the 1971 issue of The Web, the yearbook. Thanks to Humi for letting us know he took it.
I went to the concert that featured Bruce Springsteen. But it was in the fall of 1970 not 1971, and it was in Millhiser Gymnasium, not Keller Hall. There were not many people at the concert, but those who were there enjoyed it thoroughly. We were all jumping up and down.
I remember just recently coming across some announcement for tickets in an old Collegian but can't lay my hands on it right now. It was some ridiculous price like $3 or $4.
—Judy Samuelson Shapleigh, W'72
Falls Church, Virginia
Editor's note: Springsteen played at least two shows on campus, one in Keller and one in Millhiser, which probably accounts for the varying recollections of alumni who contacted us. The photo, as Judy correctly points out, was taken at the Millhiser show, not the Keller show as our story implied.
With respect to the "ill-fated" Springsteen Concert, the gist of the story is that (if my aging mind does not fail me) someone threw a smoke bomb into the concert hall. Some of us suspected someone who was upset that they were blatantly playing "hippy music" on the UR campus.
Perhaps one of his more famous concerts was on top of a parking garage (i.e., the Parking Garage Concert) on Broad Street. All I clearly remember was that it was hot and humid, but no one cared. Another notable event was when Springsteen put on a free concert in Monroe Park, where he introduced the beginning nucleus of what would eventually become the E Street Band, complete with brass and backup singers. Many in the crowd reacted very negatively to this departure from his small blues band format, loudly booing. Springsteen flatly said it was his music, the concert was free, and pointed off in the distance saying, "There's the door." 
Those of us who had the opportunity to see Bruce Springsteen in those days were able to witness unbridled music energy and a performance indelibly etched into our brains.
Glenn Habel became legendary because he became good friends with Springsteen's then-manager, whose nickname was Tinker. Tinker began giving him copies of the tapes made during Springsteen's concerts. One of my most prized possessions was a cassette tape that Glenn made for me that traveled with me from Richmond to Denver to Spokane, where it unfortunately disappeared.
—Jim Hazzard, R'72
Tucson, Arizona
P.S. I should have been R'71. What can I say? Also, forgot to say the Autumn 2017 issue was great. I especially liked the article about Congressman Tom Garrett ["The Spider on the Hill"].
PAPER FLOWERS
I'm so honored to be on the cover of this magazine. I went to the University of Richmond to earn a business degree, but it was there that I learned to listen to my creative side, to take risks, and to be myself. And for that, I will always be grateful. Thank you, Kim Catley, for telling my story. And thank you, @urichmond, for everything.
—Carrie Fleck Walters, '00
via Instagram
PROUD
Thank you for the story of Cole Sydnor ["Cole's Race," Autumn 2017]. I am so proud of him, and I don't even know him. I am also so proud of U of R. I love my alma mater!
—Marybeth Wagner Dyson, W'87
Alexandria, Virginia
Amazingly positive & encouraging article about Cole Sydnor in @urichmond magazine. Thanks for sharing your story #spiderpride.
—@LaurenH210 via Twitter
It was an honor to have been part of your journey as you continue to change the world. Everyone be sure to read this story of a truly remarkable man.
—Richmond Rowing Community
via Facebook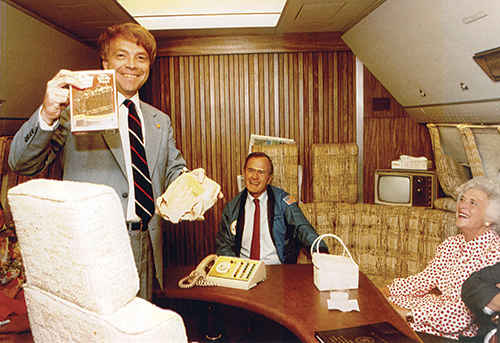 PITT AND THE PRESIDENT
I read with interest your article on George H.W. Bush ["The Day a President Played at Pitt," Autumn 2017]. I am a retired U.S. Secret Service agent and was in charge of the vice presidential protective detail from mid-1983 through late 1985. Before that I was the deputy in charge.
I recall one occasion in Beijing, China, when the subject of education was discussed in the vice president's limousine. Mrs. Bush asked me where I went to college, and I told her Richmond. She said that Richmond is a very good college, and then Vice President Bush said he recalled playing a baseball game against our team.
I continue to keep in touch with him, and he remains positive and in a good frame of mind.
—Dick Hankinson, R'65
Vienna, Virginia
Interesting article. The article was correct in calling it Millhiser Field — saw many a game there — [but it was located] where Robins Stadium is now, minus the tree behind home plate. Wasn't named Pitt Field until years later, and certainly not the Pitt Field of today!
—Bill Muse, L'73

Send us photos with your UR sweatshirt, ballcap, scarf, flag, baby Spider's onesie, this issue's cover, or however else you show your #SpiderPride for next issue to
magazine@richmond.edu.