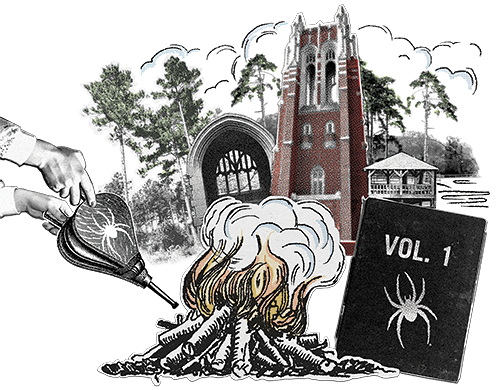 ENCYCLOPEDIA, VOL. 2
How about Theresa Pollak [for Vol. 2 of "Spider Encyclopedia," Winter 2018]? In 1931, when the alumnae of Westhampton College petitioned the board of trustees for a fine arts teacher, Theresa Pollak, a 1921 Westhampton College graduate, was appointed to conduct courses in drawing and painting.
A student at the Art Students League in New York, she had organized the first art classes in 1928 at Richmond Professional Institute. Organizing similar courses at Westhampton, Miss Pollak remained in a part-time position until 1935, when she resigned to become professor of art at RPI and chair of its school of art from 1942 until 1950. She taught there until her retirement. The current art building at VCU is named in her honor.
—Jane Stockman, W'58
Richmond
I read your encyclopedia entry on space in the winter magazine with great interest. There is another Spider that I think you should hear about. His name is Clarence Edward Doll Jr., Class of 1955.
In August 1955, Ed accepted a temporary job at the Naval Research Laboratory in Washington, D.C. At that time, NRL was working to launch and track a satellite. Ed suddenly found himself involved in an international program with the opportunity to apply his U of R education.
The goal was to prepare for the launch and tracking of a satellite in orbit. Large-scale computers were yet to come, and there were no off-the-shelf software packages at this time. Ed was a key member of a small group tasked with developing software for launch support and in-orbit computations.
When Sputnik 1 launched Oct. 4, 1957, Ed produced station acquisition data with the software he had been developing. This information was transmitted to the tracking stations. The tracking sites were soon announcing success with orbit determination.
After Sputnik 2 launched Nov. 3, 1957, there was an increased demand for the U.S. to place a payload in orbit. On Jan. 31, 1958, the Explorer 1 satellite became the first U.S. satellite to orbit Earth. On March 17, 1958, Project Vanguard had a successful launch. Its first satellite continues to orbit the Earth. Ed Doll was deeply involved with prelaunch preparations and post-launch support for these and other missions.
In October 1958, President Eisenhower signed the bill creating NASA, and Ed Doll became part of a team tasked with the design and development of real-time and precision orbit computations systems. The contributions of this group led to the Goddard Real Time System, which was the prime support system for the Mercury and Gemini missions.
—L. Henry Anderson, R'55
Catonsville, Maryland
[Editor's note: In 1975, Doll received the Exceptional Service Medal, one of NASA's highest awards.]
OUR SHOT WENT WIDE
At the risk of being "that guy," I wanted to kindly point out an error on Page 24 of Volume 1 [of the Spider Encyclopedia]. While the Spiders were indeed the first 15-seed to ever win a NCAA Tournament game, it was not in 1984, as the article states. It was a victory over Syracuse in 1991. It's nice to have multiple successes to point to, though. Thanks for producing an interesting magazine.
—Kevin Stubbe, B'85
Sarasota, Florida
POSTCARD FROM BHUTAN
Here we are at base camp, 13,400 feet, with Mount Jomolhari in background. This was Day Three of our trek.
Every year since 2002, Ted and I have taken a trip that began as a journey in Nepal, trekking 21 days to Mount Everest base camp. Our trips are based on three criteria:
• Expanding our comfort zone: Choose interesting places with unique cultures as the world gets more homogenous.
• Requires training: We choose locations that are not easily accessible so we must train and be physically prepared. These trips usually involve some sort of trekking and/or tent camping but have also involved biking.
• Sense of accomplishment: We choose locations and activities and study the cultures so that we have a sense of accomplishment once the trip is completed.
—Laura Lee Hankins Chandler, W'74, and Ted Chandler, L'77
Richmond
SYNCHRO LOVE
Very happy to see all the synchronized swimmers ["Enduring Spider spirit" on spiderpride.richmond.edu] together! As a former Aquannette, I'd have loved to have known who the women from the '80s were. (Particularly '81–'82 when I swam for the team. National champs with Peg Hogan.)
—Kristina Rhomberg Simon, W'85
Taradeau, France
A GOOD READ
I'm passing along an outstanding article on Conrad Williams, '05. He is a pediatric palliative care physician in Charleston, South Carolina. He is making huge positive impacts on the care of chronically ill and terminally ill children on a local, regional, and national level.
I have known him personally for many years and have worked with him as a pediatrician myself. I cannot think of a more outstanding human to feature in our alumni magazine.
—Christina Cochran, '06
Birmingham, Alabama
[Editor's note: We were just as struck by Williams' work and the article Cochran sent. You can read a reprint of it here. Do you have a story recommendation? Send it to us at magazine@richmond.edu.]
THE VERY BEST TEAMMATE
My family and I read the letter from Dick Hankinson ["Pitt and the President," Winter 2018] with pleasure. It reminded us of a story our father, Anthony Dominick "Tony" DiServio, told us of playing baseball against President George H.W. Bush. Dad played football, basketball, and baseball for U of R. He played first base, as did President Bush.  
While impressive, he considered the more important person he met at Richmond to be our mother, Elsie Bertha Henley, W'46. They were married for 50 years. Thanks for your always interesting magazine.
—Donna DiServio Lange, L'84
Locust Hill, Virginia
WE'LL TAKE IT
What does it mean that I never attended U of R but find your magazine vastly more engaging than any publication from my quite fine alma mater? It says you're doing a damn fine job. Keep at it.
—David M. Poole
Richmond
Let us know what you think about what you read in the magazine. Email your thoughts to magazine@richmond.edu. We also welcome your story tips.
Please include your class year, city, state, and maiden name, if applicable. All letters to the editor may be edited for clarity or brevity and should not exceed 200 words. Opinions expressed here are those of the letter writers, not necessarily those of the magazine or this institution.