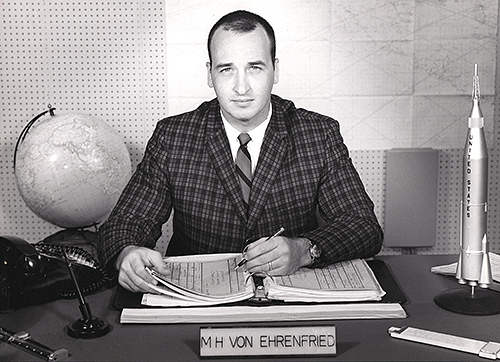 SPACE RACE
I was delighted to see the photograph and article on Dutch von Ehrenfried ["A Few Small Steps for Manfred," Spring/Summer 2019]. He and I worked together as desk clerks at a Quality Inn during our senior year. Aside: I was a Boeing engineer for 30 years.
Joe Essid wrote that Wernher von Braun "had a bit of an image problem" ["Neil Armstrong and the America That Might Have Been," Spring/Summer 2019]. Indeed an understatement about this Nazi SS officer and father of the V2 rocket that killed 9,000 British.
—Leo Coale, R'60
Murrieta, California
KUDOS
I read every word. Design and editorial … the best I ever remember. Thank you.
—Gayle Covey, W'69
Hendersonville, North Carolina
RUMOR MILL
Thanks for sharing the hard truth about the (lack of) insurance on D-hall's dessert bar ["I Assumed It Was True," Spring/Summer 2019].
Any idea if the dessert bar is endowed by an alum with a sweet tooth? That was the rumor back in the mid-'90s, when days were dark and dinosaurs roamed Westhampton Green.
—Ann Michele Sweeney, '97
Glen Allen, Virginia
DO BETTER
Dear Magazine: Page 7 of the current issue is a waste of space ["A Challenging Call," Spring/Summer 2019]. We need to focus on today and tomorrow, rather than rehashing the past, which cannot be changed.
—Walter Dunn Tucker, R'53
Henrico, Virginia
ROBINS GIFT MEMORIES
I just read from cover to cover this latest issue of the magazine. Yes, I did notice the new smaller size and very much appreciate the transformation of it over these past five years.
A few observations: I was a freshman in the fall of 1969; the Robins gift was still settling for all of us, yet the potential was seen as limitless ["50-year Legacy of 'The Gift,'" Spring/Summer 2019]. In many ways we had no idea of what was to manifest. In fact, I was a member of the swim team to first take to the waters of the Robins Center pool my senior year. Indeed the initial Robins gift along with the subsequent university leadership has magnetized so much more from increased student diversity, internationalism — two-thirds of the students participating in study abroad is phenomenal! — leadership studies, and a campus completely transformed.
When I say to others I am graduate of UofR, rarely does anyone not know of the university. I continue to be a proud alumnus.
Keep up your very creative work on producing an interesting, informative, and inspiring magazine. I always take delight in reading it. Cheers.
—David Sanford, R'73
Longmont, Colorado
MILLHISER MEMORIES
After reading updates on the new basketball and well-being centers under construction and the proposed renovation to Millhiser Gymnasium on this Memorial Day, my thoughts flowed back to 1940 ["Hammer Time," Spring/Summer 2019].
From about 1939 to 1941, a group of high school boys from the West Cary Street area, now called Carytown, formed local sandlot athletic teams in football, basketball and baseball. They called themselves "Spiders," and their pretend University was TIU, as they hung out at Trent's Icehouse across from the old Calvary Baptist Church.
The TIU gang didn't miss many of the real Spiders' games, either at the old City Stadium or on the campus. We were let into Millhiser by the janitor through the coal bin and sat on bleachers at the front wall nearest the trophy room, where we kept score on a manual scoreboard. It was there that one of us (unknown) chalked on the wall the letters "TIU" and followed with the group's names, one on each brick. These names were still readable this past spring, my name among them. What brought them to mind on this special day is that they are all veterans of World War II, most having died in recent years.
Now, it appears that their names will finally be erased from the wall as the gymnasium undergoes renovation. I read that the old baskets will remain as a reminder of the original use of the building. Perhaps there is a way these TIU boys — who were World War II servicemen and later most became UR students — could also be remembered.
I've had a lot of fun pointing out the names to many of the younger generation. I think it's a good story, but now it's time to move on. The makeover of the gym is for the current and future Spiders, as it should be, and the schematic drawings are beautiful.
—Bill Jordan R'53
Brightwood, Virginia