It would be easy to think Alex Parson is following in her older sister Micaela's footsteps. Both are interested in biology and pre-med, both claim a love for the Heilman Dining Center, and both play basketball for the University of Richmond. Though Micaela jokes of Alex simply "wanting to follow in my footsteps" now that both are Spiders, this idea of being "Little Micaela" almost deterred Alex from committing to Richmond. 
"We sound alike, we look alike, we act alike, but at the same time we're different people," Alex said, adding that sometimes they get double-takes on campus. "We're [also] two different players. I play my game, and she plays her game."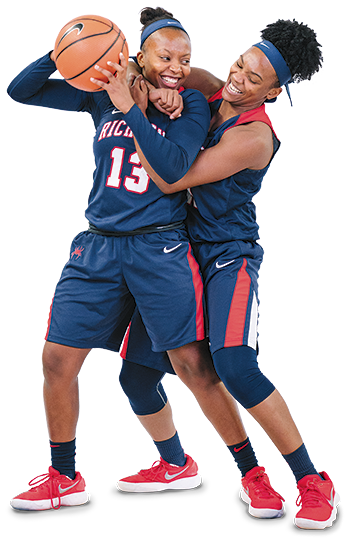 Their different strengths ultimately make them a good pair and Richmond a better team, they said. They grew up playing against each other at the hoop in their backyard in North Chesterfield, Virginia, before they first played together four years ago at Monacan High School.
"She was always a shooter, and I would always be a person who would get to the basket because she was so much smaller than I was, so I would push her down and get to the basket," Micaela, a senior, said. "But then she learned to stay away from me and just shoot pretty far shots, and the majority would go in."
Alex, a freshman and three years younger than Micaela, is 5 feet 6 inches tall and plays point guard. Micaela (on right in the photo, clearly not fouling her sister) plays two guard and is slightly taller at 5 feet 8 inches. The two of them play to each other's strengths and weaknesses, bringing, as their coaches noted, different things to the team.
Micaela said she used to be bothered when people said Alex was just as good or even better than she was. But as their last year playing together began, Micaela started working to ensure that Alex is better by the time Alex graduates in 2021.
"I'm telling her things that I didn't find out until this year that would probably just make her a much better player throughout her four years here," Micaela said. "I'm enjoying it. It's just a blessing having it again."
Although they play together now, their paths to basketball at Richmond differed tremendously. Micaela started playing against the boys when she was 5 years old and never stopped, although she does admit to considering quitting to play softball in sixth grade.
"My parents just knew I wanted to play a sport," Micaela said. "They say I started running before I was walking."
Alex did not start playing until about the sixth grade and concedes that her first year was very rough, in part because she had been a cheerleader. Micaela calls it "comical."
Now that they both attend Richmond, they say their competition is healthy as they push each other to improve every day and take advantage of the last time they will play on a team together before Micaela graduates in May.
But they did have one big problem to overcome during preseason practices: Alex couldn't guard Micaela because she couldn't stop laughing.
"She can literally make me laugh at any moment, and it's bad," Alex said. "We were doing a staring eye competition for a media day, and I took one look at her and just fell on the floor laughing so hard."