Grammy-nominated songwriter, DJ, and rapper Donnie Lewis, aka Mad Skillz, is the School of Professional and Continuing Studies' first artist-in-residence. He co-teaches a course on hip-hop with associate professor Erik Nielson that includes Arts and Sciences undergraduates and SPCS undergraduate and graduate students.
MY START
The first time I performed in front of others was probably break-dancing. I had to be like 11, 12 maybe. I was in a group with one of my childhood friends and his sister. His sister was so cute. We would always win competitions just on the cute factor. She was like our secret weapon. I'm still friends with them to this day.
MY EARLY WRITING
I used to like to talk in front of the class. My English teacher took notice and always called on me first to read reports and things like that. I figured out early that I was good at conveying stories, which turned into writing. That ended up turning into raps.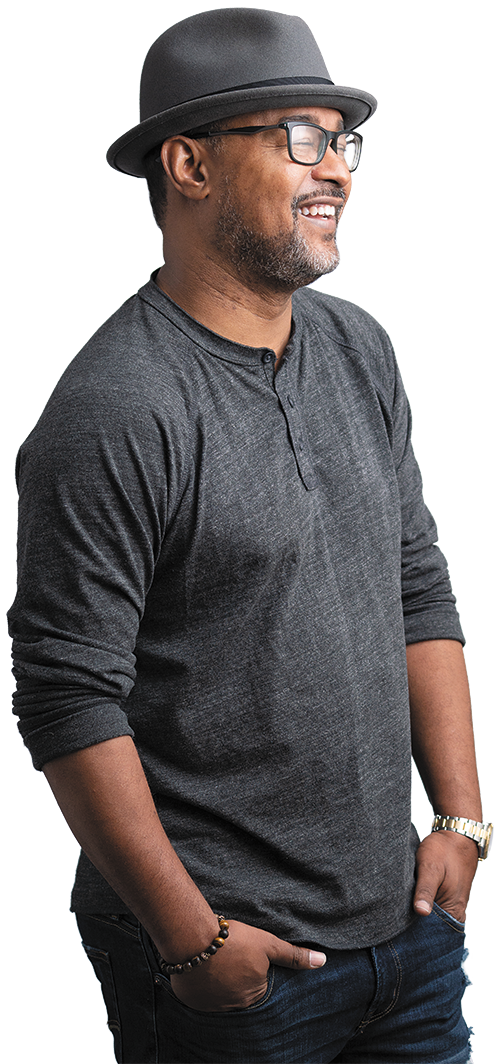 MY UR CONNECTION
A friend of mine was a student here. He did a radio show on WDCE every Saturday called UR House Party. He told us, "From 6:30 to 7, I'll just let y'all rap. You're artistically free, but don't curse." It became training ground for getting better.
MY STAGE NAME
We used to take calls at WDCE. A guy called and asked, "Who was that rapping over that instrumental? I don't know what his name is, but he has mad skills." From that point on, I was Mad Skillz.
MY RAP STYLE
In rap battles, I was very "I got more raps than you." We'd be going around, but I would always wait so I'd go last. That was my goal. I didn't want anybody to feel like they could come after me. When I rap, it's over.
MY SETBACK
I got a record deal in the early '90s. Then my label also signed the Notorious B.I.G.'s group. That was the turn. All of the marketing money, all of the attention just shifted.
I went back to what I was doing before, working at a parking deck. It was weird, but I kept writing.
MY DISCIPLINE
I was always an underdog. No major rappers had ever been from Virginia. From 7 o'clock to 3 every day, I worked. By 6 o'clock that evening, I was in somebody's studio trying to finish a song or record. That fire was still in me.
MY CAREER
I signed with Timbaland, and then I started hanging out with Missy Elliott. At this time, Missy was on fire, super hot. I started paying attention to songwriting. That's been my focus ever since.
MY MOTIVATION
A life lived with music is a very well-lived life. I made a decision at 14 or 16 that I'm going to do this music thing, and it paid off.
Even when it didn't pay off, I didn't stop doing it. That's how I know this is what I'm supposed to do.
MY MOVE TO ACADEMIA
A student of Erik's interviewed me. When she was done, Erik asked me, "Have you ever thought about teaching?" I was like, "Nah. I'm cool." He said, "Think about it. Here's my number."
I talked to friends that had done it, like Questlove from the Roots and 9th Wonder. 9th said, "You should take this seriously. Call him and ask exactly what they want you to do." Every time Erik and I talked about it, I got excited by how excited he was.
MY TEACHING STYLE
After a couple classes, I figured out what the students needed from me: a real perspective from somebody who's been there. I've been in the room with P. Diddy or Nicki Minaj trying to construct a song.
My aunt is a teacher, so I see how it is when somebody digs deeper than they normally would.
MY REWARD
The students are listening with a different ear, which opens up my ear.
We were listening to the Geto Boys' "My Mind's Playing Tricks On Me." The whole song's about being paranoid whenever you go outside the house because you've done so much wrong to so many people.
One of the students said, "This is a PTSD song. It sounds like something a soldier would make after coming back from war." And I thought, "Wow, it does."
MY STUDENTS
I'm proud of them. They want to learn. One of the students said, "I have children and they love it, and I just want to understand more about it."
Hip-hop is the needle of the youth. These discussions open up doors. I wish there were more universities that took it seriously.